Daughter of the Loom (Bells of Lowell Book #1)
The mill town of Lowell, Massachusetts, comes to life with intrigue and drama from the creative writing team of Judith Miller and Tracie Peterson. Young women at the end of the 19th century seek employment from driven men intent on transforming America's textile industry. Daughtersof the Loom features Lilly Armbruster, who is forced to work in the mills as her only means for survival. But Lilly's resentment runs deep against the "lords of the loom"–the men she believes have stolen her father's farm and caused his premature death. Her animosity happens to include Matthew Cheever, her childhood friend and one-time betrothed. Though separated by their opposing views about the future of the mill and the community that surrounds it, the emotions of their hearts still bind them. Will their dreams for the future allow their fragile love to survive?
Click here to download Daughter of the Loom.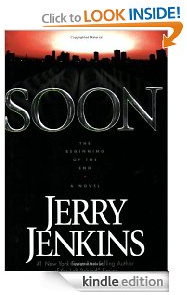 Soon
Paul Stepola, an agent working for the National Peacekeeping Organization (NPO), has been assigned to enforce compliance with the world government's prohibition on religion. Paul relishes his job and is good at it. He is determined to expose underground religion–flush it out, expose it, and kill it–until his life is turned upside down and he is forced to look at life in a different way. As Paul begins to unravel the truth about what he has found, events taking place around the world start to make sense. Something big is coming–something that can't be stopped. And it is coming soon. 
Remember, you don't have to have a Kindle to read these. You can read them on your computer, iPhone, BlackBerry, iPad, Droid, or Windows 7 phone.
Amazon changes prices quickly, so if you want these free books, be sure to grab them now. I haven't read either of these, so I'm not personally recommending them. I just wanted to let you know that they were available for free.
You can find more free eBooks here.