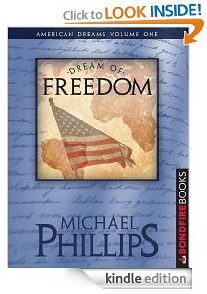 Dream of Freedom (American Dreams)
In the Civil War-era South, Richmond and Carolyn Davidson live lives of ease as wealthy plantation owners. But even though their wealth and livelihood depends on slave ownership, their Christian consciences speak against the practice.
When the Davidsons decide to follow their own moral judgment and God's will by freeing their slaves, they face consequences they never could have anticipated. Risking their lives as an important link in the Underground Railroad helping runaway slaves escape to the Northern states, the Davidsons must rely on their wits—and God's protection—to stay alive.
Unmending the Veil
Unmending the Veil implies that somehow the torn Temple veil has been mended. Stitch by stitch, Robin has closed her heart off to God. Years have passed since a nearly fatal attack by her husband, and still, she is paralyzed by fear and grief.
When faced with the command to forgive all things, will Robin be able to forgive the man who nearly killed her, forgive God for taking what mattered most, and forgive herself for her own attempt at murder?
Remember, you don't have to have a Kindle to read these. You can read them on your computer, iPhone, BlackBerry, iPad, Droid, or Windows 7 phone.
Amazon changes prices quickly, so if you want these free books, be sure to grab them now. I haven't read either of these, so I'm not personally recommending them. I just wanted to let you know that they were available for free.
You can find more free eBooks here.