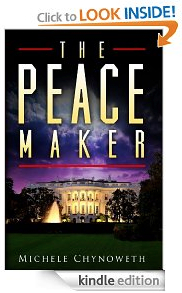 The Peace Maker
Chessa's husband, U.S. Senator Darren Richards, is a behind-the-scenes, narcissistic alcoholic. None of that changes when he becomes the leading Democratic candidate for President of the United States. Chessa's worries about her husband reach a fevered pitch as he closes in on winning the nation's highest office. How can she support his candidacy, even if it will mean becoming First Lady?
Darren's opponent, Leif Mitchell, is selected from his more humble life as a horse rancher and country rock singer to run for political office. His charm and leadership pave the way for him to become a national hero and a real threat as the leading Republican presidential candidate. A rich and powerful Darren will stop at nothing to bring Leif down, causing Leif to reconsider his "high road" approach to politics.
When Chessa finds out Leif is preparing to seek revenge on Darren in an attack that will not only destroy her husband's candidacy, but will probably cost other innocent lives as well, she is suddenly faced with a decision: Should she preserve peace at all costs, protecting those who would otherwise become collateral damage as a result of the ensuing battle—and in default, her husband—in turn sacrificing her freedom and risking her own life? Should she try to stop Leif, which may ruin his chances but save his soul?
The Peace Maker is based on the story of David and Abigail in the Bible's First Book of Samuel – a story of adversity, struggle, courage and faith that God will lead his people if they but let Him.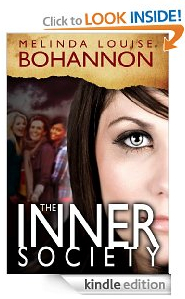 The Inner Society
A new and very exclusive society has developed in Norfolk, VA, a society of wealthy people who wield a chilling amount of power. Now Norfolk High has become infiltrated by rich, spoiled teenagers who believe they are inherently better than everyone else.
When Maggie Kraus, a rebellious and troubled teen, comes to Norfolk, she blatantly challenges the balance of power and becomes the target of a deadly game.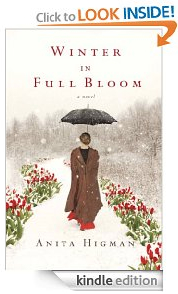 Winter in Full Bloom
Lily Winter's wings are folded so tightly around her daughter that when empty nest arrives, she feels she can no longer fly. But Lily's lonely, widowed life changes in a heartbeat when she goes to visit a woman who is almost a stranger to her-a woman who also happens to be her mother. During their fiery reunion, her mother reveals a dark family secret that she'd been hiding for decades-Lily has an identical twin sister who was put up for adoption when they were just babies.
Without looking back, Lily-with her fear of flying-boards a jumbo jet and embarks on a quest to find her sister which leads half way around the world to Melbourne, Australia. Befriended by imprudent Ausie, he might prove to be the key to finding her sister. But her journey becomes a circle that leads her back home to attempt a family reunion and to find the one dream she no longer imagined possible-the chance to fall in love again.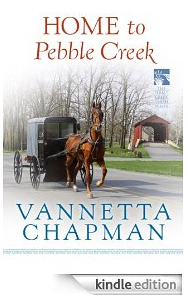 Home to Pebble Creek
This free short story e-romance is a prequel to The Pebble Creek Amish Series by Vannetta Chapman. Fans of the series will enjoy this chance to briefly revisit Pebble Creek, and new readers will be introduced to an Amish community that is more deeply explored in the three full novels, A Promise for Miriam, A Home for Lydia, and A Wedding for Julia. When Joseph Bontrager left Pebble Creek, all of Esther Schrock's dreams and hopes for the future went with him. Bravely picking up the pieces of her broken heart, she resumed her life teaching at the schoolhouse with Miriam King. Now, nineteen months later, Joseph has returned. Despite her initial excitement, Esther feels anger rise up instead of love. Will she be able to forgive him for leaving? Forgive him for more than a year and a half of silence without a single letter? With Miriam's encouraging words, and despite ominous clouds on the horizon, will Esther be able to replace the bitterness in her heart with affection for Joseph once more?
Remember, you don't have to have a Kindle to read these. You can read them on your computer, iPhone, BlackBerry, iPad, Droid, or Windows 7 phone.
Amazon changes prices quickly, so if you want these free books, be sure to grab them now. I haven't read any of these, so I'm not personally recommending them. I just wanted to let you know that they were available for free.
You can find more free eBooks here.