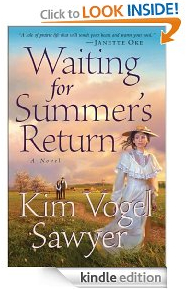 Waiting for Summer's Return (Heart of the Prairie Book #1)
All alone on the Kansas prairie, Summer Steadman has few options. With her husband and children lost to illness, she has no desire to continue on farther west to where she and her husband planned to build their future. Instead, she seeks employment in a small Mennonite community in order to be near the graves of her family.
Widower Peter Ollenburger, the local gristmill owner, needs someone to teach his young son. When he hears of a "learned woman" in town, he believes she is the answer to his prayers. He soon discovers, however, that helping this outsider may have troublesome consequences.
There is little this father will not do for his son, but as the boy begins to look at Summer as more than a teacher, Peter must make a choice. Does he marry this woman to give his son a new mother, or does he marry only for love?
Will Summer's broken heart ever be able to love again?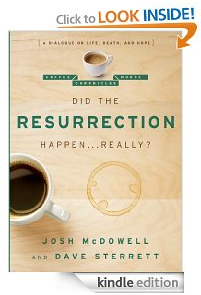 Did the Resurrection Happen . . . Really?
The Coffee House Chronicles are short, easily devoured novellas aimed at answering prevalent spiritual questions. Each book in the series tackles a long-contested question of the faith, and then answer these questions with truth through relationships and dialogue in each story.
In Did the Resurrection Happen, Really?: A Dialogue on Life, Death, and Hope, the college campus is rocked by a shooting spree that leaves nine students dead. Their up-close experience with mortality allies the coffee house discussion group together to really wrestle with the spiritual and eternal ramifications of whether or not Jesus rose from the dead.
Remember, you don't have to have a Kindle to read these. You can read them on your computer, iPhone, BlackBerry, iPad, Droid, or Windows 7 phone.
Amazon changes prices quickly, so if you want these free books, be sure to grab them now. I haven't read any of these, so I'm not personally recommending them. I just wanted to let you know that they were available for free.
You can find more free eBooks here.