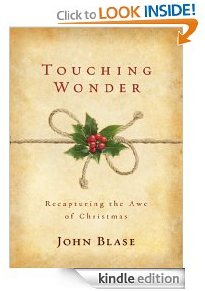 Touching Wonder: Recapturing the Awe of Christmas
This bold retelling of Luke 1–2, based on Eugene Peterson's Message translation, reads like a novel and invites readers to experience the Nativity with fresh wonder.
To Eugene Peterson's The Message Bible translation, John Blase adds his own storytelling voice, exploring the familiar events from multiple first-person viewpoints. What emerges is the intimate story of unlikely people—a frightened teenaged girl, a worried carpenter, a collection of senior citizens, a disillusioned young shepherd—meeting up with the divine as they bumble and stumble toward the realization that the little one just born is the One.
This retold story of Word made flesh invites readers to react appropriately—with eyes opened wide in wonder, jaws dropped in amazement, and hearts rejoicing. The beautiful design and Amanda Jolman's lively line drawings make this book a fitting gift as well as a Christmas tradition that families will treasure for years to come.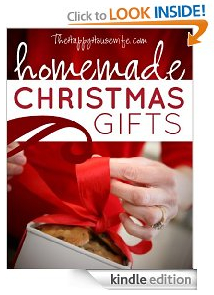 Homemade Christmas Gifts
Homemade Christmas gifts don't have to look like they came out of your 3 year-old's Sunday School class. There are some amazing homemade gift ideas that can be made by real-life moms on a real-life budget! In this book you'll find step-by-step instructions for sixty gifts that you can make using easy to find items and you don't have to be an expert crafter to do it!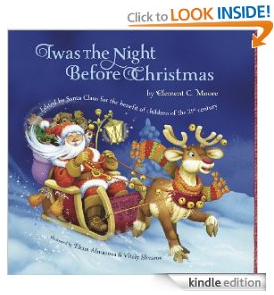 Twas The Night Before Christmas
Visit from Santa Claus on Christmas Eve. Santa arrives with his reindeer driven sleigh and a bag of toys to leave to the delight of children.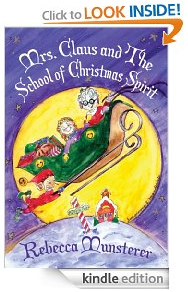 Mrs. Claus and The School of Christmas Spirit (A Kat McGee Story)
If Kat McGee had one Christmas wish, she'd wish to be special.
Instead, she's the boring middle in a family packed with sparkly siblings, including three sisters who have all starred as Mary in Totsville, Maine's annual big-deal Christmas Pageant. All Kat's done is wet her pants on a rollercoaster and earn herself the horrible nickname, "Kat McPee." When she doesn't get the part of Mary, Kat's convinced that Christmas will be just another Kat McPee failure.
But then Kat's beloved Gram lets it slip that she went to school with Mrs. Claus. The Mrs. Claus. Before Kat knows it, a magical snowglobe whisks her away to the North Pole, where she makes friends, checks naughty and nice lists, and takes classes in cookie baking, reindeer training, and toy designing. It's a Christmas miracle …
But something is wrong. The North Pole is being threatened, and only Kat McGee can help.
MRS. CLAUS AND THE SCHOOL OF CHRISTMAS SPIRIT is a new Christmas classic about a modern girl in a magical adventure. Kat is about to learn that the spirit of Christmas is about what you give, not what you get, and who you can be if you believe in Christmas … and yourself.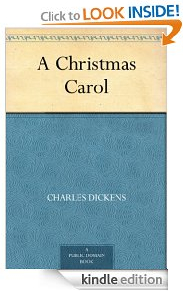 A Christmas Carol
This is the classic Dicken's tale.
Remember, you don't have to have a Kindle to read these. You can read them on your computer, iPhone, BlackBerry, iPad, Droid, or Windows 7 phone.
Amazon changes prices quickly, so if you want these free books, be sure to grab them now. I haven't read any of these, so I'm not personally recommending them. I just wanted to let you know that they were available for free.
You can find more free eBooks here.