Here are a few more free Kindle eBooks for you.
Click here to download Chasing Mona Lisa
"It is August 1944 and Paris is on the cusp of liberation. As the soldiers of the Third Reich flee the Allied advance, they ravage the country, stealing countless pieces of art. Reichsmarschall Hermann Göring will stop at nothing to claim the most valuable one of all, the Mona Lisa, as a post-war bargaining chip to get him to South America. Can Swiss OSS agents Gabi Mueller and Eric Hofstadler rescue DaVinci's masterpiece before it falls into German hands?"
Click here to download Safe at Home
"The spring of '53 started out like any other for sports columnist Jack Hall, as he and the rest of his small southern town, Whitney, eagerly awaited the magical first pitch that would open the Bobcat's season. But when ticket sales wane with the new distractions of air conditioning and I Love Lucy, the Bobcats face an early end not only to the season but to their careers as well. The team needs a white knight to save them and ironically, that white knight seems to be a 17 year old "colored kid", Percy Jackson, who's got a .364 batting average and has never seen a grounder he couldn't chase down.
Not everyone—not even most people—though can wrap their heads around an integrated baseball field, even if they have seen them on TV. This is Whitney. Things don't change and they don't need to change. Do they?
Hearts, minds, faith and tradition will be tested as will friendships and marriages when this sleepy southern town comes to grips with itself amid the early years of the Civil Rights Movement."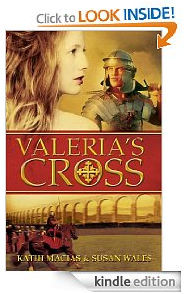 Click here to download Valeria's Cross
"In the 3rd century, pampered Roman princess Valeria falls in love with Mauritius, captain of the Theban Legion. She sends him off to battle, where he suffers under the schemes of a notorious pagan general with an ambition for power and a lust for Valeria."
While I was looking for free Kindle books for you, I noticed that a few past freebies are set back to free. Grab them now if you missed them last time.
Remember, you don't have to have a Kindle to read these. You can read them on your computer, iPhone, BlackBerry, iPad, Droid, or Windows 7 phone.
Amazon changes prices quickly, so if you want these free books, be sure to grab them now. I haven't read any of these, so I'm not personally recommending them. I just wanted to let you know that they were available for free.
You can find more free eBooks here.