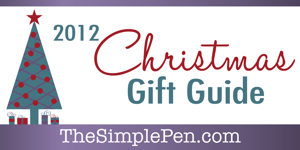 If you missed our previous gift guides, be sure to stop by and check them out:
Gifts for Her
Gifts for Babies
Gifs for Kids
Gifts for Teens & Tweens
Christmas Books for Kids
Gifts for the Home
Amy & I asked our husbands for some input into this edition of the gift guide. Plus we found some pretty sweet gift ideas ourselves.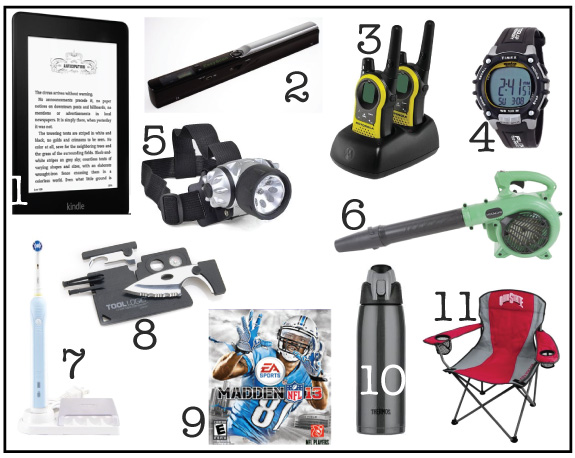 We've talked about the Kindle Fire, but have you heard of the Kindle Paperwhite? The Paperwhite is specifically for reading. It has a higher resolution and higher contrast for easier reading. You can even see it in bright sunlight. With its 8-week battery life and 1,100 book capacity, this could keep any guy stocked in books for quite a while. You can choose to get yours with or without special offers. The Paperwhite is in demand. If you want one, you'll need to order soon and choose two-day delivery to get it in time for Christmas.
I used to put off scanning whatever needed scanned because it was a pain to get the printer/scanner fired up and ready. But now we have one of these handheld scanners, and it's SO easy! I actually taught Emma to use it, so she scans everything for us. There's no warm-up time. Just turn the unit on, scan, and connect via USB to your computer. You can even scan multiple things and then download them all at once. Be sure to pick up a microSD card
(not include with scanner).
A pair of 2-way radios come in super handy sometimes and are just plain fun other times. Amy used them when filling their attic with insulation, one person in the house and one outside. Many 2-way radio sets have up to a 10 mile radius.
The Timex Ironman is Amy's hubby's favorite watch. It holds up well to everyday activities and still looks sharp at school or while coaching. This watch has multiple timers and alarms, and a stopwatch (which comes in handy when the kids to pick up their things *right now*.)
This is on Jason's wish list. He just had to crawl up in the attic with a regular flashlight. He promptly found this and added it to his Christmas list. That attic work could've been a bit easier had his flashlight been hands-free. This would be great for any task that requires both hands.
While we live on a hill where all the leaves blow away, Amy has a sidewalk and yard and a sweet gas powered leaf blower to go with them. This blower can be used to blow off the sidewalks and driveway after mowing and trimming, and as a high-powered "broom" in the garage, making clean-up a breeze. Wonder if that would work for cleaning up toys??
If you have a gadget geek or health nut, check out the Oral-B Professional Precision 1000 power toothbrush. It removes up to 100% more plaque than an manual brush. Plus there's a $15 Oral-B mail-in rebate available through 12/31.
This sweet little multi-tool caught Jason's eye. It's the size of a credit card (slightly thicker but not much!) but has a 2-inch serrated knife, an 8x power lens (starting a fire anyone?), compass, can/bottle opener, flat screwdriver, tweezers, toothpick, and ruler. Whew. That's like MacGyver in your wallet… minus the duct tape.
Football-loving sports fans will be all over this one. Must be the next best thing to actually playing in the NFL (or something like that). Madden NFL 13 delivers world-class presentation with an all-new living front end, dynamic in-game transitions, a live ticker, and drastically improved usability. Every game has the feel of a nationally televised broadcast.
Drink more water. Yes, he knows he should. But water that's been sitting in a cup for a while tastes stale. This stainless steel hydration bottle keeps drinks cool for up to 18 hours. He can pack them for work, hikes, or wherever he's headed. Plus it has an unbreakable stainless steel interior and exterior.
It might be a little chilly for tailgating, but you can get him ready for next season. These folding chairs sport his favorite NFL or NCAA team. You can narrow it down to his favorite team by typing the team name in the search box on this page.
The Giveaway
Now that you've got some great ideas for your guy, here's a giveaway that could be for him or for you.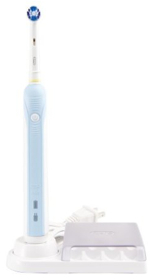 One Simple Pen reader will win their own Oral-B Professional Care 1000 rechargeable power toothbrush.
To enter: Leave a comment on this post.
Want an extra entry? Tell us if you would keep the toothbrush or give it as a Christmas gift.
Want another extra entry? Sign up for the The Simple Pen Christmas Gift Guide email newsletter and leave an extra comment saying that you did.
Entries will remain open until Sunday, December 9, 2012 at 9 p.m. EST. One winner (US addresses only) will be randomly chosen. The winner will be emailed and will have 48 hours to respond. If there is no response, a new winner will be chosen.