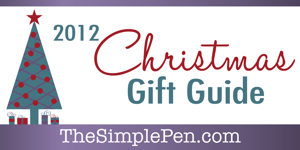 If you missed our previous gift guides, be sure to stop by and check them out:
Gifts for Her
Gifts for Him
Gifts for Babies
Gifs for Kids
Gifts for Teens & Tweens
Christmas Books for Kids
Gifts for the Home
It's time to stuff those stockings! Amy & I found some fun stocking stuffers for all ages.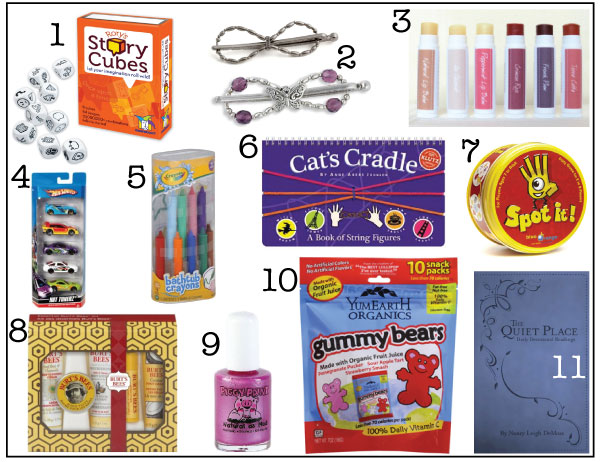 I love games that inspire creativity. This looks like a game that could keep our whole family busy for hours. Just roll the dice, and let the images inspire a story. You can create a story solo or work together to tell a tale. I can only imagine how silly these could get!
I have weird hair. It will NOT stay put in a hairclip. I've tried all kinds. Nothing holds for more than 10 minutes. Well enter the Flexi-Clip. I'm not exaggerating when I tell you that it stayed put all day. I was surprised myself! Emma also got one to try. She LOVES the girly design with the butterfly. If you're not sure what size to order, be sure to check their sizing video. And if you get the wrong size, exchanging is a breeze. Ask me how I know.
Wintertime around here means lip balm. We've tried them all, but I think I've found a new favorite. Made with the safe ingredient, iron oxide, MadeOn's tinted lip balms provide the same nourishment for chapped lips that the untinted lip balms offer, with an added natural color to enhance the lips. Don't care for tinted? Choose natural, Au Chocolat, or Peppermint, instead!
Hot Wheels are one of those gifts that keep on giving. My husband still has some of his from childhood, and our own kids love to play with theirs, too. Each pack is an instant collectable. I love Amy's suggestion for a Hot Wheels game… "Drive on Mommy." She lies down (and closes her eyes). They drive. Bliss.
Crayola bathtub crayons are super fun for the kids. They can be used for learning play, too. Spelling practice in the tub, anyone? And you know what? I can use them, also! You know how we moms remember things or have our best ideas while in the shower? Problem solved!
Emma got this book at the science center last year, and she uses it all the time. It has very specific directions (with pictures!) to teach kids how to create different string figures. Emma was really excited that she could create the Eiffel Tower all by herself. I like the string that comes with the book. It's sturdy enough for lots of play without getting easily tangled.
I'm a fan of games that you can toss in a backpack and take with you. Spot It is a fun fast-paced find-it game that allows for lots of players. Just draw two cards and see who can be the first to spot the symbol that the two cards share. There's only one! We like to play this when we need a quick game without a lot of setup or cleanup.
Pamper me, please! I think my favorite gifts are gifts that pamper in any way. Burt's Bees products do just that. Enjoy naturally softening buttermilk, emollient beeswax, vitamin-enriched oils and healing botanicals that nourish skin and restore essential moisture.
Do you know what's in your nail polish? Eeek! The non-toxic, hypoallergenic, odorless formula makes Piggy Polish safe to use on all piggies. It's is a natural, eco-friendly nail polish designed for fancy girls.
Ask Emma what her favorite candy is, and she'll probably name a YumEarth organic lollipop flavor (Mango Tango anyone?). She'll be pleasantly surprised to find YumEarth Organic Gummy Bears in her Christmas stocking. Another new favorite! YumEarth Organics Christmas Organic Gummy Bears are made with real fruit juice and other planet-friendly and natural ingredients. They contain no artificial colors or flavors and no major allergens, such as gluten, nuts and dairy and no high-fructose corn syrup. Each serving provides 100% of daily vitamin C and has less than 70 calories. YumEarth Organics Gummy Bears are the world's first organic gummy bears with the quintessential bouncy texture of a traditional gummy in mouth-watering fruit flavors: Pomegranate Pucker, Strawberry Smash and Sour Apple Tart.
Any woman who needs a few quiet moments each day will appreciate The Quiet Place. The beautiful blue faux-leather cover holds 366 daily Bible studies (even one for Leap Day!). Women will be called to revival and biblical womanhood through Nancy's stories and devotionals.
The Giveaways
Of course we want to help you stuff your stockings! We have three goodies for you to enter to win.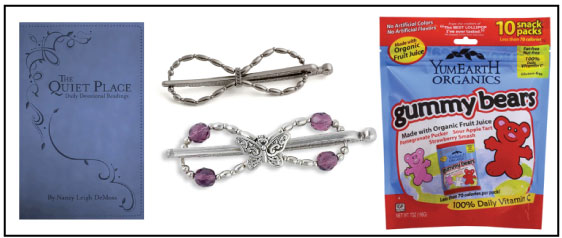 Three Simple Pen readers are going to win a little something to help stuff stockings. You can treat yourself, or use one of these prizes as a gift. Here's what you could win:
A copy of The Quiet Place by Nancy Leigh Moss :: Keep this for your own daily encouragement, or share it with someone.
A Flexi-Clip from Lila Rose :: Choose the one that's best for your hair type (or for someone you're gifting it to).
A bag of Holiday Gummies from YumEarth Organics :: Share them with your kids, or keep them for a treat.
How to enter? Leave a separate comment for each item you'd like to win. That means you can enter to win up to three times.
Entries will remain open until Sunday, December 16, 2012 at 9 p.m. EST. Four winners (US addresses only) will be randomly chosen. The winners will be emailed and will have 48 hours to respond. If there is no response, a new winner will be chosen.