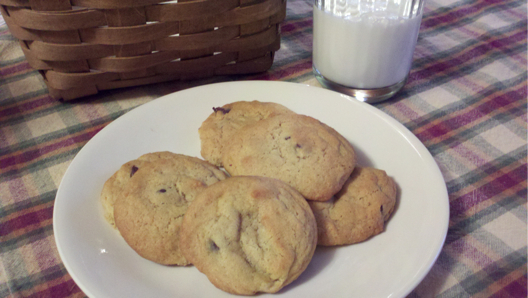 We've been watching our sugar intake around here, but Emma had a taste for a little something sweet last night. So instead of firing up the oven and making a whole batch of cookies, I decided to take my grandma's chocolate chip cookie recipe and make a partial batch. I cut the recipe in half and baked them in our toaster oven* (which is also a countertop convection oven). It made a total of 15 cookies… just right for a few of days' snacking for us.
Grandma's Chocolate Chip Cookies
This is the full recipe. I cut it in half (which is kind of tricky when the full recipe calls for one egg).
Ingredients:
2/3 c. butter (softened) – Use the real stuff for this recipe.
1/2 c. sugar
1/2 c. brown sugar (packed)
1 egg
1 tsp. vanilla
1 3/4 c. flour – I used all white instead of sneaking in some whole wheat.
1 tsp. baking soda
1/2 tsp. salt
1 c. chocolate chips
Directions:
Heat oven to 375 degrees.
Line cookie sheets (or toaster oven pans) with parchment paper. Trust me on this one. It's worth it.
Combine softened butter, sugar, brown sugar, egg, and vanilla until smooth.
Add flour, soda, and salt. Blend.
Gently mix in chocolate chips.
Drop by rounded teaspoonfuls about 2 inches apart on the cookie sheets.
Bake 8-10 minutes (7-9 in the toaster oven).
Cool slightly before removing from the pan to cool on a wire rack.
Tip: Let them bake until they're slightly golden brown on top. They'll still be a little soft to the touch.
* We use the Black & Decker CTO4500S 6-Slice CounterTop Convection Oven with Pizza Bump, Stainless Steel
from Amazon. You can check it out over there. We LOVE that we don't have to heat up the whole kitchen with the big oven when we just want a little snack.
I'm sharing this post at:
:: Mouthwatering Monday hosted by A Southern Fairytale
:: Tip Me Tuesday hosted by Tip Junkie
:: Tasty Tuesday hosted by Balancing Beauty & Bedlam
:: Tempt My Tummy Tuesday hosted by Blessed with Grace
:: Tuesdays at the Table hosted by All the Small Stuff
:: Look What I Made hosted by A Thrifty Mom
:: Works for Me Wednesday hosted by We Are THAT Family
:: Thrifty Thursday hosted by Coupon Teacher
:: Strut Your Stuff Thursdays hosted by Somewhat Simple
:: Recipe Swap hosted by The Grocery Cart Challenge
:: I'm Lovin' It Fridays hosted by Tidy Mom
:: Finer Things Friday hosted by The Finer Things in Life
:: Homemaking Link-Up hosted by Raising Homemakers