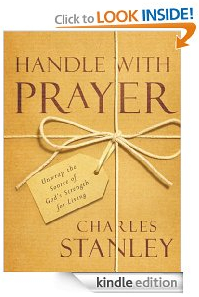 Handle with Prayer: Unwrap the Source of God's Strength for Living
Handle With Prayer is a definitive guide to the power and practice of prayer. This modern-day classic is a must-read for anyone craving a rich, intimate prayer life that produces results.
God longs to communicate with His children. He desires to move in our lives, help us through difficulties, and unveil the unseen. Yet few of us would claim to have a satisfying prayer life. So why is it that so many Christians struggle to open God's precious gift of prayer?
Remember, you don't have to have a Kindle to read Kindle eBooks. You can read them on your computer, iPhone, BlackBerry, iPad, Droid, or Windows 7 phone.
Amazon changes prices quickly, so if you want this free book, be sure to grab it now. I haven't read this book, so I'm not personally recommending it. I just wanted to let you know that it was available for free.
You can find more free eBooks here.