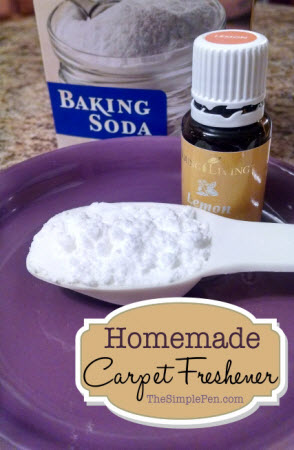 We're having company tomorrow, so tonight I wanted to do a quick once-over with the vacuum cleaner. (If you missed my last post on cleaning for company, you know that doesn't always happen. 😉 ) When I turned the vacuum on, I realized that the bag was starting to smell a little stale like the dogs. I know the bag isn't full, and I hate to waste a perfectly good bag. What to do?
I know a lot of people grab some Carpet Fresh or other powdered carpet freshener. I don't tolerate those very well, probably because of the artificial fragrances. (Plus the fact that Carpet Fresh is made by WD-40 makes me raise an eyebrow.) In the past, I've always grabbed my trusty baking soda, sprinkled a little on the floor, and swept it up. That usually takes care of most of the odor. Tonight I decided to put a little twist on my vacuum bag freshening.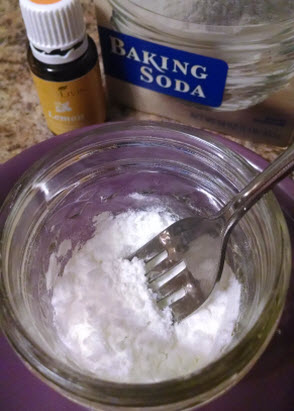 In a glass jar, I mixed 1 Tablespoon of baking soda with 8 drops of Young Living Lemon Essential Oil. I stirred it with a fork to make sure that it was mixed well.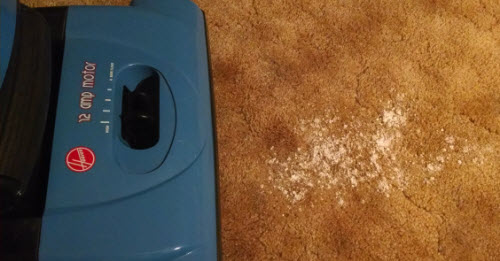 Then I sprinkled it on the carpet. I vacuumed it up and then went about my regular cleaning.
The result? The carpet freshener not only killed the stale smell of the sweeper bag, but it also added a fresh lemon scent to our home. It certainly made sweeping a more pleasant task! That lovely lemon scent followed me all around the house.
You could use all sorts of different oils to make this carpet freshener. If you make more than one application's-worth, you can store the rest for later use. Just store it in a cool place out of direct light. If you use a citrus oil, store your mixture in a glass container. (Citrus will eat plastic.)
Note: I don't recommend using any other essential oil brands. You will be inhaling the micro-particles of oil. The Young Living brand oils that we use are 100% pure therapeutic-grade oils that are held to the highest industry standards. If you want to get your own Young Living oils, click here for more information.