Here's a free Kindle book that will help you get a jump-start on your Christmas gift-giving. It's only free through today, so grab it now!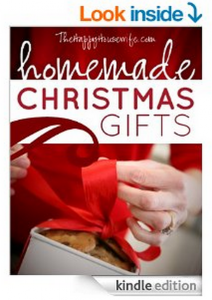 Homemade Christmas Gifts
Homemade Christmas gifts don't have to look like they came out of your 3 year-old's Sunday School class. There are some amazing homemade gift ideas that can be made by real-life moms on a real-life budget!
In this book you'll find step-by-step instructions for sixty gifts that you can make using easy to find items and you don't have to be an expert crafter to do it!
Remember, you don't have to have a Kindle to read Kindle eBooks. You can read them on your computer, iPhone, BlackBerry, iPad, Droid, or Windows 7 phone.
Amazon changes prices quickly, so if you want this free book, be sure to grab it now. I haven't read this book, so I'm not personally recommending it. I just wanted to let you know that it was available for free.
You can find more free eBooks here.