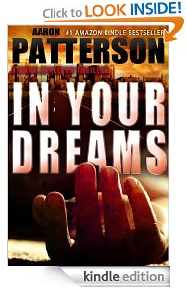 In Your Dreams
Mark Appleton must figure out what time he is in as he fights to bring down the worst enemy he has ever faced. Himself.
Kirk Weston is back and falling for Isis, the dark deadly killer he cannot stop thinking about. It is a race against time as he tries to save her life, as an enhanced virus is sweeping through the country.
Note: This is book #3 in a series. The other books in the series are:
Sweet Dreams
Dream On
Remember, you don't have to have a Kindle to read Kindle eBooks. You can read them on your computer, iPhone, BlackBerry, iPad, Droid, or Windows 7 phone.
Amazon changes prices quickly, so if you want this free book, be sure to grab it now. I haven't read this book, so I'm not personally recommending it. I just wanted to let you know that it was available for free.
You can find more free eBooks here.