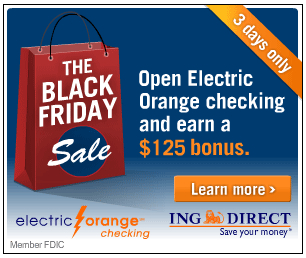 Oh I love these free money offers from ING Direct! This time you can get $125 for opening a new checking account. Here's how it works:
Click here to open an Electric Orange account November 23rd – 25th.
Make a total of 10 purchases (either signature or PIN-based) using your Electric Orange Card or 10 CheckMate deposits (or any combination of the two) within 45 days.
Your $125 bonus will be automatically deposited into your account on day 50.
Bonus only available for new Electric Orange checking accounts.
This bonus is only good until Sunday (11/25). Click here to start your $125 bonus.