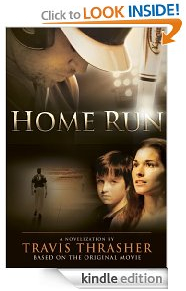 Home Run
I haven't seen the movie yet, but I thought maybe reading the book would be a good start!
Baseball star Cory Brand knows how to win. But off the field, he's spiraling out of control. Haunted by old wounds and regrets, his future seems as hopeless as his past.
Until one moment—one mistake—changes everything. To save his career, Cory must go back to the town where it all began. His plan is simple: coach the local baseball team, complete a recovery program, and get out as fast as possible. Instead, he runs headfirst into memories he can't escape … and the love he left behind.
Faced with a second chance he never expected, Cory embarks on a journey of faith, transformation and redemption. And along the way, he discovers a powerful truth: no one is beyond the healing of God.
A novel based on the major motion picture starring Vivica A. Fox and Scott Elrod, Home Run is an inspirational story of the hope and freedom God offers each of us.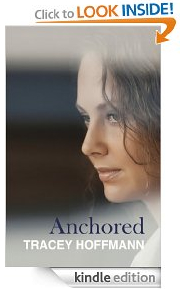 Anchored
Successful business man, David O'Malley thought life would be simpler moving from Sydney to the picturesque seaside town of Blue Bay, known for it's stunning beaches and friendly locals. An unexpected brutal hit and run not only leaves David questioning his decision to move, but throws the sleepy town into a spin, with suspicions running high.
Mia Dawson had lived in Blue Bay her whole life and she'd never met anyone quite like David. Despite his obvious good looks and city charm her heart was guarded. A series of unexpected events threatens Mia's safety, but sadly she cannot run to the one man she needs the most – her father.
Overwhelmed by deceit and lies, Jonathan only has himself to blame. There's a bitter wedge between him and his only daughter, Mia, which haunts him day and night. Despite living under the same roof his family is falling apart.
Mystery, mistrust and betrayal run deep throughout Anchored. A story where relationships are important but not always as they seem.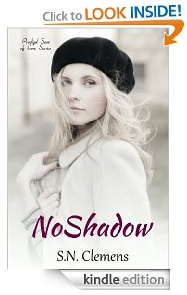 No Shadow (Prodigal Sons of Cane)
Helen Walton wants desperately to acquire an important, rare manuscript for her library. The only thing standing in her way is Andrew Cane, handsome, affluent, exasperating, and used to getting anything he wants. She isn't going to cave to his intimidation tactics, no matter how much power he wields in her small town, no matter how deeply she's tempted to fall for his humor, strength, and generous heart.
Andrew has returned to the small town he grew up in, but he's only planning to stay a short time. He's set on purchasing a manuscript for his grandmother, and he won't let any baffling and (irresistibly) infuriating librarians like Helen get in his way.
He left his hometown and his faith a long time ago, but now they're both drawing him back. But opening up his heart–to God and to Helen–means taking a risk he hasn't taken in years.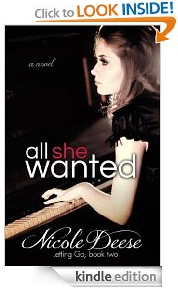 All She Wanted (Letting Go)
Choices.
They determine how we live, who we are, and what we want. Some choices are made for us.
Others we must make for ourselves.
Charlie Lexington is a living consequence of both. Everything about the feisty redhead represents a second chance—even her name. Though she was rescued at the age of five, her past is a lingering reminder of what she longs for most.
And the one thing she has spent a lifetime trying to find.
After a series of less-than-stellar choices, her Performing Arts Scholarship now hangs by a thread. Her sudden suspension has not only resulted in her father's disappointment, but in the loss of her freedom as well.
She is forced to face the music: four weeks house arrest.
Briggs is the carefree, charming, yet all-too-mouthy fireman who is asked to keep an eye on the pretty little spitfire. He quickly learns, however, that his first assessment of her was off—she's tougher than she looks. When her stubborn resolve pushes his sanity and intercepts his heart, his loyalties are put to the test.
Sometimes the hardest choice we make, is the one we must make for love…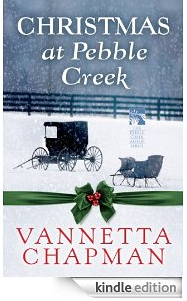 Christmas at Pebble Creek (Free Short Story)
** Note: This book is a pre-order. It is free right now, and it will be delivered to your device when it is available on 11/1. **
This free short story e-romance is an exclusive bonus from The Pebble Creek Amish Series by Vannetta Chapman. Fans of the series will enjoy this chance to briefly revisit Pebble Creek, and new readers will be introduced to an Amish community that is more deeply explored in the three full novels, A Promise for Miriam, A Home for Lydia, and A Wedding for Julia. As a bonus, this free eBook also includes Amish homestyle recipes for chicken and dumplings, green beans, and fresh bread. Heavy snow blankets the southwestern Wisconsin Amish community as nineteen-year-old Grace Miller closes the schoolhouse for Christmas break. She's looking forward to having extra time to help the family prepare for the holiday, and she is hoping to get a few more drawings in of the beautiful, snowy Pebble Creek landscape. Her courtship with Adam Lapp is going on six months, and Grace can't wait to give him his present: a blue-and-brown buggy blanket she crocheted for him. Yes, this Christmas is going to be especially joyful. Yet, amid the cheer of snowshoe outings, church potlucks, and holiday festivities, Grace is given a bittersweet reminder of the Christmas story. Grief is present with celebration, and though the future is rarely certain, she is given a heartwarming glimpse that God knows our needs before we do and will provide.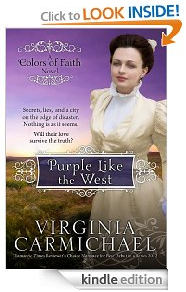 Purple Like the West (Colors of Faith)
Margaret Gilbert, a railroad executive's daughter, is a pampered princess of San Francisco's wealthy elite. She chafes under the expectation that she will marry for status and dreams of independence. When she joins the local Ladies' Aid Society, she's horrified by the treatment of the Chinese immigrant laborers. Vowing to expose the abuse, she begins to investigate the complicated system of slave labor provided to the railroads, but no one will listen to a woman like her.
When she meets Ezra Pendleton, heir to a newspaper empire, she concocts a plan to tell the world- without incurring the wrath of her father. Ezra is the perfect cover. She'll make her family happy by feigning interest in a very eligible bachelor, become an undercover reporter, and keep her identity a secret.
At least, that was the idea. Margaret starts to wonder if Ezra will turn out to be her plan's fatal flaw. He is not the sort of man you can string along with flattery. He's smart, wary, and is hiding a secret of his own. As the city falters under the stress of the Chinese mobs, the situation turns more dangerous than they could have imagined. Racial tensions in the city hit a breaking point and arson hits close to home. By the time the time there is an outbreak of the plague in Chinatown, it seems as if all the darkest parts of the city will be revealed at once.
Margaret and Ezra are thrown together in a common cause, but will their secrets destroy the love that is growing between them? A story of faith, honor, and forgiveness.
This is the second book in the series. The first, All The Blue of Heaven (Colors of Faith)
, is also available but not as a free Kindle book right now.
Remember, you don't have to have a Kindle to read these. You can read them on your computer, iPhone, BlackBerry, iPad, Droid, or Windows 7 phone.
Amazon changes prices quickly, so if you want these free books, be sure to grab them now. I haven't read any of these, so I'm not personally recommending them. I just wanted to let you know that they were available for free.
You can find more free eBooks here.