A few weeks ago, I confessed that we were LONGGGGG overdue for an oil change. Fortunately I realized later that we'd had an oil change a bit more recently. We just didn't get the little window sticker for it. Whew.
Last weekend, Emma and I headed out to get the oil changed. I checked the recommended oil weight in our owner's manual, and I was armed with my MOM's Oil Change Checklist.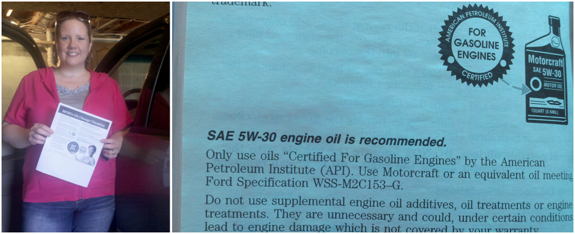 I stopped by our regular oil change location, hoping that they met all the qualifications listed on the checklist. That hope may have been encouraged by the fact that the oil change is done as a drive-through. You can't beat not having to get out of your car to get your oil changed!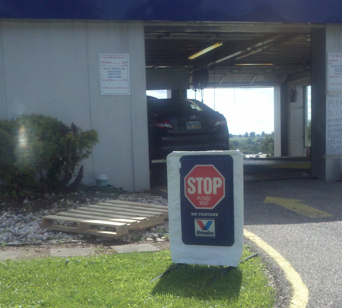 The drive-through oil change location uses Valvoline oil, so I knew we were good on the 'Do you know what you're getting?' item on the checklist.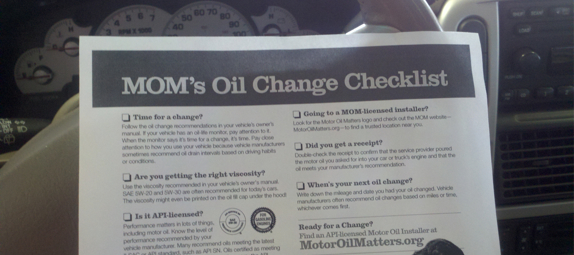 They also printed out a sticker to remind us of when our next oil change should be. (Do you think they KNEW we needed that visible reminder? Ahem.)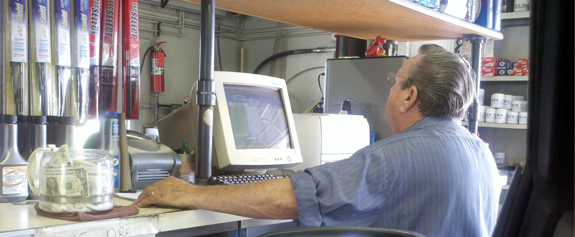 They also provided a receipt detailing what brand and viscosity of oil we got. They didn't change our air filter, because it still looked brand new. I love that they were honest and didn't just change the filter in order to make more money.
If you haven't yet downloaded your copy of the MOM's Oil Change Checklist, be sure to do that before your next oil change. I felt a bit more prepared and knowledgeable having the information in-hand when I went to get my oil changed.
Disclosure: The Motor Oil Matters information and an oil change gift card were provided by Motor Oil Matters. All opinions (especially the one about my truck being WAY overdue for an oil change) are honest and my own.