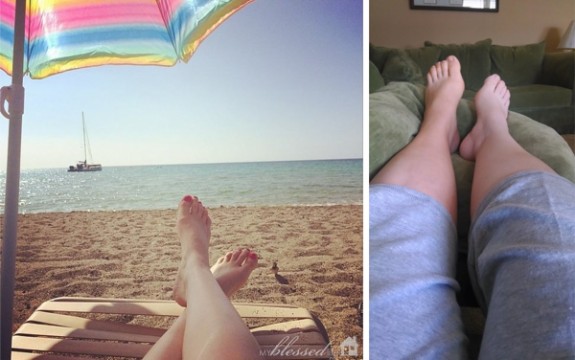 I've seen tons of feet-on-the-beach photos in my Facebook feed lately. It's become a mandatory part of every beach trip, right? The picture on the left is my friend Myra's beach shot from her recent trip to Hawaii. The picture on the right? It's been my view for the past four weeks as I've been recovering from knee surgery. I'm stuck in my recliner with a view that doesn't include sandy beaches, ocean waves, or sailboats.
Woe is Me
Truth is… I've had some tearful, woe-is-me, end-of-the-world, leave-me-alone pity parties over the whole thing. While the surgery went well, and I was able to tackle post-surgery pain naturally, the recovery process has been hard. Way harder than I thought it would be.
I've found myself complaining (in my head) about being stuck sitting around (I'm used to being busy doing things!), having to ask my husband or daughter for everything from a glass of water to help putting my socks on (Have I mentioned that I'm independent?), and not being able to dust my own living room (not that I'm normally a stellar housekeeper…). This pity party place was not good.
A Change in Perspective
Lately my perspective has been shifting. It started when I was struggling to get into our truck after homeschool co-op last week. As I was hauling my bum leg into the front seat, I looked out the window. Right in front of us was a man on crutches. I wanted to shout to him, "I FEEL YOUR PAIN, MISTER!!" But then I realized…. He was on crutches because he was missing the bottom half of one of his legs.
Wham.
I decided right then and there that I had nothing to complain about. While my leg isn't healed, it will be. It may not bend much right now, but eventually it will. I can still wiggle my toes and flex my foot. As I evaluated my situation in that light, I found that my perspective needed to change in a lot of areas.
I was complaining because I was stuck sitting in the recliner or getting around on crutches.
Instead I'm thankful for the friend who loaned me a wheelchair, restoring some of my mobility and freedom.
I was complaining because I can't clean my house.
Instead I'm thankful for my mom coming to dust and for my husband doing the laundry.
I was complaining because I wasn't able to cook dinner.
Instead I'm thankful for the many friends and family members who dropped off meals.
I was complaining because I couldn't get in and out of the shower on my own.
Instead I'm thankful for the shower chair that a friend loaned me.
I was complaining because getting up and down the steps now requires sitting down.
Instead I'm thankful for the arm strength to get up and down the steps on my own.
I am blessed. I have a husband, a daughter, extended family, and friends who have knocked my socks off with their support through this past month. They've cooked, cleaned, listened, prayed, checked in, stopped by, and helped in any way they could. They have been simply amazing. As I look around I realize that this isn't the end of the world. It's a temporary bump in the road.
It's all about perspective.