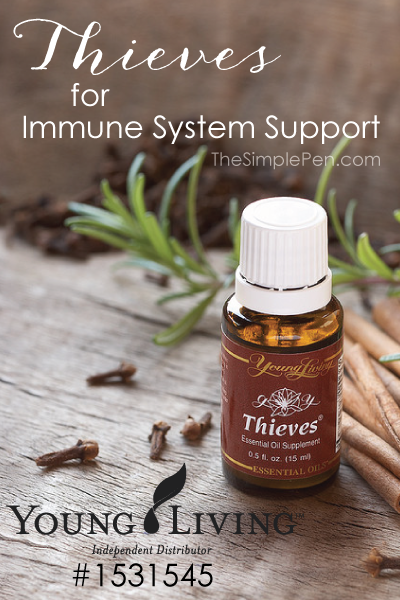 Winter is on its way. While we're avid hand-washers, that's simply not enough to keep our immune systems in tip-top shape.
So how are we supporting our immune systems for the coming season? I'm so glad you asked. 😉 This winter, we're going to be using our new BFF, Thieves.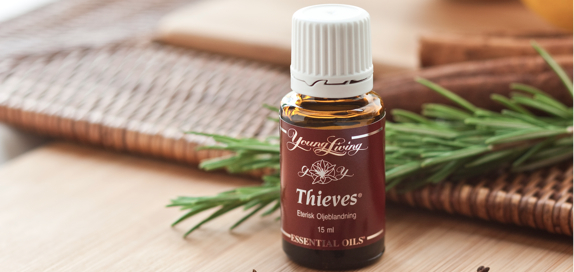 What is Thieves?
Thieves is a blend of oils with a fun story. Historic archives tell about the plagues hitting 15th Century  Europe, and the ports being closed. A group of spice merchants found themselves out of work because of this. To make a living, they took to stealing from people who were dying (or dead already). They remained healthy. They eventually got caught, and in exchange for a lesser sentence, they agreed to share the blend of spices they were using to stay healthy. The Thieves oil from Young Living is based on these historical archives.
The Young Living website describes Thieves as a blend of clove, lemon, cinnamon, eucalyptus radiata, and rosemary. Our daughter says it smells like gingersnap cookies. I don't think she's too far off!
How are We Going to Use Thieves?
I promised to take you along for the ride as we dive into the world of essential oils. Thieves is the one that we're going to be spending the most time with this winter.
Since we can't avoid people all winter, we try to keep our immune systems running at their top speed as much as possible. After being around lots of people this week, we've been diffusing Thieves, rubbing it on our feet, and drinking it in tea (1 drop to a mug).
My plan is to put Thieves on the bottoms of our feet before we head out anywhere this winter.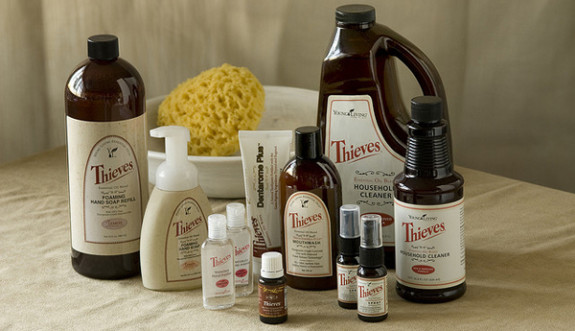 How Else Will We be Using Thieves?
Thieves isn't just a bottle of essential oil. There's a whole line of products made with Thieves oil. From hand purifier and soap to household cleaner, we're going to be armed and ready.
 Thieves Hand Purifier
I always have a bottle of hand purifier in my purse. Thieves Hand Purifier is an all-natural hand purifier designed to cleanse and refresh the hands. It can be used by adults and children to keep hands clean and promote good hygiene, without the use of water. (Plus it smells good!)
Thieves Foaming Hand Soap
Hand washing still tops my winter wellness priority list. Whenever we've been at the mall, at church, at the dance studio, or anywhere else, our first order of business when we get home is to wash our hands. Thieves Foaming Hand Soap is made to cleanse, defend, and condition the skin with the therapeutic-grade essential oil blend Thieves, pure lemon and orange essential oils, aloe, Ginkgo biloba, and vitamin E. It contains gentle ingredients, so it can be used often without drying or stripping the skin. I'm swapping our soap for Thieves foaming hand soap.
Thieves Household Cleaner
My mom and I split a bottle of the Thieves household cleaner. This stuff is concentrated! We'll be able to make a bunch of spray bottles of cleaner from this one bottle of concentrate. The best part about the cleaner is that it's safe for kids to use. Yes, that means the kids can clean their own bathrooms (and maybe yours too!) and stay safe. We'll be using this all over the house.
How Do You Get Your Own Thieves?
If you want to join us in our quest for wellness this season, you can get your Thieves products on the Young Living website. You'll pay full retail price if you go through the regular site. If you prefer to get a wholesale price (24% off retail), I highly recommend that you sign up for a Young Living account.
Want to sign up for a wholesale account? Here's how:
Click here to start the sign-up process.
Choose the 'Wholesale Member' option so you can get the 24% discount.
I'd love for you to put my ID number (#1531545) in as the person who told you about Young Living (Sponsor ID and Enroller ID). They send us a little bonus when new friends sign up, and I'd like to be connected so that I can support you as you start using oils.
Fill in all of your information.
Keep your username, password, and PIN so you can use them on future orders.
Choose your starter kit. I HIGHLY recommend the $160 Premium Starter Kit, as you'll get the most bang for your buck that way.
Choose your diffuser. I recommend the Home Diffuser for people who are just getting started with essential oils.
Feel free to bypass the Essential Rewards option, and we'll chat more about that later. Then you can decide if it will work for you or not.
Add anything else that you might need (supplements, Thieves hand soap, etc.) or leave the order as-is.
Check out and wait for your box. The waiting is the hardest part!!
If you do sign up using my number, drop me a message and let me know. I'll send you some reference materials and information that will help you learn to use your new oils when they arrive.  I'll also add you our Facebook groups where you can learn more about essential oils.
These statements have not been evaluated by the Food and Drug Administration. This product is not intended to diagnose, treat, or cure any disease. I'm just a mom sharing our family's experiences. You should do what you feel is best for your family. Image sources: youngliving.org and facebook.com/oilyfamilies