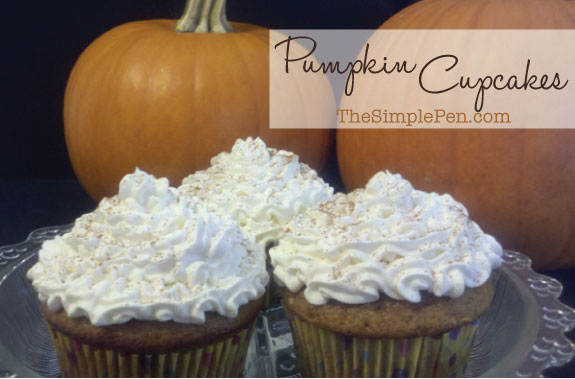 This week was Pumpkin Week for homeschooling. We did fun things like reading about how pumpkins grow, making a 3D pumpkin from paper strips, doing a big pumpkin math project (she learned the word circumference!), and making pom pom pumpkins. Of course, no Pumpkin Week would be complete without a trip to the pumpkin patch!
See that white board behind her? It's a huge ruler. She measured in a 4'5″ this year. How in the world did THAT happen?? 🙂
We also decided to celebrate Pumpkin Week by baking some pumpkin cupcakes. We stopped by Walmart to pick up our baking supplies, including Cool Whip Frosting. We opted for the cream cheese flavor thinking that would be the perfect topping for our pumpkin cupcakes. You can see our shopping trip and baking day pictures here.
Today we were using my Grandma's Pumpkin Bundt Cake recipe and turning them into cupcakes. I may be biased, but I'm pretty sure that I have the best baking helper.  She really loves reading off the ingredients list, helping me measure, dumping everything in the mixer, and turning it on. She was even willing to crack the messy eggs today. Can't beat that!
When the cupcakes were done, we frosted them with the new Cool Whip Frosting. It was light like whipped icing from the bakery, but the cream cheese definitely gave it a rich, creamy taste. (And I know NOTHING about the spoonful that went missing before we iced the cupcakes!) We decided to pile our Cool Whip Frosting high on each cupcake.
If you have littles who want to help with cupcake decorating, here's our sprinkles tip for you. Place the cupcake in a shallow bowl before they add sprinkles. The bowl will catch all the strays and keep the countertop much cleaner.
Emma decided that she needed to eat the Cool Whip frosting first. "It's the best part" was her reason. By the time I asked Jason what he thought, his cupcake had disappeared. I'm assuming that's a two thumbs up from him.
Want to find out more about the new Cool Whip Frosting flavors and find delicious recipes for using them? Here's how:
:: Take part in the #CoolWhipFrosting Twitter party on Wednesday, October 24, 2012 at 1 p.m. EST.
:: Check out the yummy recipes from Kraft Recipes.
:: Like Cool Whip on Facebook and join in the conversation.
Disclosure: I am a member of the Collective Bias™ Social Fabric® Community.  This content has been compensated as part of a social shopper insights study for Collective Bias™ and Kraft Cool Whip.  All opinions (and missing frosting from the container) are all mine. #CoolWhipFrosting #CBias #SocialFabric