It's coming…….
Black Friday is just around the corner. Not that I'm heading out. No… I'll be snug in my bed at 4 a.m. on Black Friday thankyouverymuch. But the shopping season will be officially underway. And that means that we're all going to be tempted to overspend.
So how can we avoid overspending this year? Here are a few strategies that we use.
1. Set a budget and then stick to it.
I'm the queen of well-it's-just-a-little-more-than-we-wanted-to-spend. So I'm ranking this at #1 for myself. 🙂 We do have dollar amount in mind for each person on our list. Now we need to just stick to it.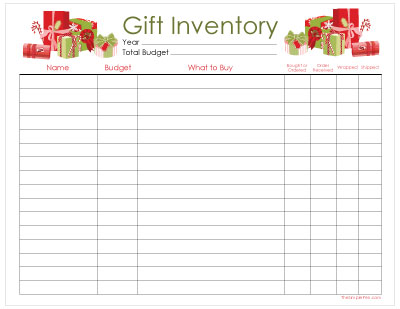 If you want to keep your budget organized, you can use a gift inventory printable. Click here to download this free printable.
2. Pay for gifts when you buy them.
No, I'm not discouraging shoplifting (though shoplifting is a definite no-no). I'm encouraging you to either pay cash or use your debit card when you're Christmas shopping. Allowing that just-this-one-time exception of using your credit card is opening the door to overspending.
3. Check your reward points.
Do you have a rewards credit or debit card? Now's the time to check your point balances. Maybe you can cash out for gift cards to help with your shopping.
4. Beware of the small stuff.
Stockings. Stockings. Stockings. They're fun. But they can be oh-so pricey! Be on the lookout for inexpensive stocking stuffers while you're shopping.
Shipping is another 'small stuff' addition to your shopping bill. If you're an Amazon shopper, be sure to check out Amazon Prime. NOW would be a great time to sign up for the free 30-day trial of Prime. With Prime you get free two-day shipping or you can upgrade to one-day shipping for $3.99 per item. (I've used one-day shipping in a pinch!) I can remember the times I added items to my Amazon orders to get them to the $35 Super Saver Shipping minimum. Now I don't have to hit a certain total for my items to ship free. You also get access to the Kindle Lending Library, Prime Music, and Prime Instant Videos. They've even added photo storage to the list of benefits.
Wrapping paper is another inexpensive item that can add to the cost of your gift giving. You don't have to use traditional wrapping paper though! We've used Emma's artwork (on large sheets of paper) and solid-colored tissue paper. Even lunch bags can be decorated with ribbon, rubber stamps, or stickers. If you have a newspaper nearby, ask for the endroll of newsprint. They're usually free or super-inexpensive. Then turn the kids loose (or you if you're crafty!) and decorate your own wrapping paper. If you're looking for inspiration, I'm starting to pin some creative gift wrap ideas here and I have some ideas here.
5. Limit Your Gift List
I love giving gifts. I also love keeping our family budget intact. A couple of years ago, my brother and I decided it was time to stop buying for each other and just buy for the kids. We get together and enjoy each other's company. We enjoy watching the kids delight in their gifts. And that works for us.
If you have a large family, maybe you could arrange a gift exchange where you choose names. I've even heard of families bringing a gift that would work for anyone and randomly picking who gets each gift. Or maybe instead of exchanging gifts, you could all donate to a charity together.
6. Christmas Cards
Isn't it fun to go to the mailbox and find Christmas cards waiting for you? My mom and I used to operate a home-based stationery and invitation business. We made personalized Christmas cards for people every year. So I'm definitely a fan of cards! But cards can get really expensive.
One way we've saved on Christmas cards is to buy them in small batches when they go on sale. By doing this, you might get each set of 25 cards free and just pay for shipping (or maybe even score free shipping!). It doesn't matter that you have a variety of designs. What matters is that you didn't break the bank to buy them. I'll be on the lookout for card deals again this year, and I'll share them with you as I find them.
You can also save money on cards by opting for postcards. Postage is cheaper, and that can really add up if you're sending a lot of cards.
7. Keep your focus.
Christmas gifts are fun, but that's not what Christmas is about. When we keep Jesus at the center of our celebration, gifts become secondary. This season, let's enjoy time worshipping, time with our families, and time giving.