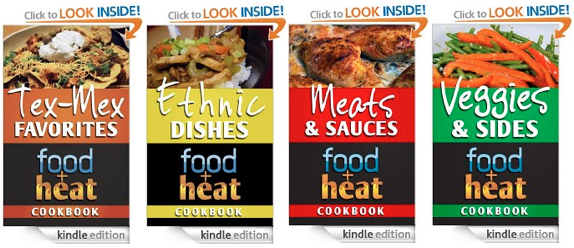 This week you can pick up four free Kindle cookbooks that were written by friends of ours, Jeff & Joy Miller from Five J's.  Here are the titles that are available:
Tex-Mex Favorites :: Look inside to find out how to make some tasty dishes from scratch, including Restaurant Style Enchiladas (complete with homemade enchilada sauce), Seared Steak Fajitas, and yummy Mexican Hot Chocolate.
Ethnic Dishes :: The American palate is influenced by flavors and ingredients from all around the world, but often our choices can be bland in comparison with traditional ethnic dishes. Sometimes we turn our nose up at something because the flavors are bold. We might think that a dish it too spicy, when in reality we're simply not accustomed to aggressive flavors.
Meats & Sauces :: This volume of Food+Heat tackles the great American favorite combination of meats and sauces. Inside you'll find meaty recipes sure to satisfy the carnivores in your family, along with savory sauces to ladle atop those meats in copious amounts. Many of the sauces will be made right alongside your meats or use the drippings left behind by your meat dishes, enhancing the delicious flavor of your dish.
Veggies & Sides :: No meal is complete without a tasty side dish or two, but we often scrimp and put something on the table bland and uninspired. There's no excuse for this kind of kitchen behavior. Creating yummy side dishes only takes a little extra time. Remember, a great side dish helps an outstanding entrée taste even more impressive. Better yet, a well-crafted side dish can help make what might be an average meal into an extraordinary one. If you'll take the time to pair up a nice side with your main dish, you'll get no end of compliments from your family at the dinner table. Roll up your sleeves and get ready to peel, chop, and dice up some great veggies and sides.
Be sure to download these while they're free. Then enjoy cooking up a storm!