A friend of mine described Randy Singer as a John Grisham without the language. If you've read his book Directed Verdict
, I'm guessing you would agree. Now there's another Randy Singer Kindle book available for free.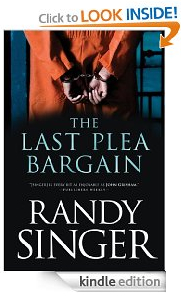 The Last Plea Bargain
Plea bargains may grease the rails of justice, but for Jamie Brock, prosecuting criminals is not about cutting deals. In her three years as assistant DA, she's never plea-bargained a case and vows she never will. But when a powerful defense attorney is indicted for murder and devises a way to bring the entire justice system to a screeching halt, Jamie finds herself at a crossroads.
One by one, prisoners begin rejecting deals. Prosecutors are overwhelmed, and felons start walking free on technicalities. To break the logjam and convict her nemesis, Jamie must violate every principle that has guided her young career. But she has little choice. To convict the devil, sometimes you have to cut a deal with one of his demons.
Remember, you don't have to have a Kindle to read Kindle eBooks. You can read them on your computer, iPhone, BlackBerry, iPad, Droid, or Windows 7 phone.
Amazon changes prices quickly, so if you want this free book, be sure to grab it now. I haven't read this book, so I'm not personally recommending it. I just wanted to let you know that it was available for free.
You can find more free eBooks here.