A Time to Heal: Quilts of Lancaster County Series #2
Chris Matlock is a weary and wounded ex-soldier who just wants some peace in his life, but then he meets Hannah Bontrager, a gentle, pacifist Amish woman who turns his world upside down. Born and raised on a Kansas farm, Chris finally finds peace in this simple community helping with the crops. He expects resistance from the Amish but is appalled when he and Hannah experience threats. When he discovers who his enemy is, he realizes he must stay and reveal a secret that could take away everything.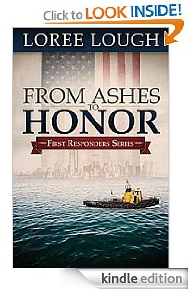 From Ashes to Honor: Book #1 in the First Responders series
If he had only answered that last phone call from the World Trade Center . . .
Minutes before two jumbo jets changed U.S. history, New York police officer Austin Finley ignored the call from his brother, who'd been bugging him for days. Trying to live with his one regret causes hatred and bitterness to consume Austin, and when counselor Mercy Samara recommends desk duty, Austin resigns. Haunted by her own memories of 9/11, Mercy takes a job as a school counselor in Baltimore. When Austin, now an EMT, responds to an emergency at Mercy's school, both are stunned and wary.
Finally their common—and painful—memories turn suspicion into friendship, then romance.
They Almost Always Come Home
When Libby's husband Greg fails to return from a two-week canoe trip to the Canadian wilderness, the authorities soon write off his disappearance as an unhappy husband's escape from an empty marriage and unrewarding career. Their marriage might have survived if their daughter Lacey hadn't died…and if Greg hadn't been responsible. Libby enlists the aid of her wilderness savvy father-in-law and her faith-walking best friend to help her search for clues to her husband's disappearance…if for no other reason than to free her to move on. What the trio discovers in the search upends Libby's presumptions about her husband and rearranges her faith.
Remember, you don't have to have a Kindle to read these. You can read them on your computer, iPhone, BlackBerry, iPad, Droid, or Windows 7 phone.
Amazon changes prices quickly, so if you want these free books, be sure to grab them now. I haven't read any of these, so I'm not personally recommending them. I just wanted to let you know that they were available for free.
You can find more free eBooks here.