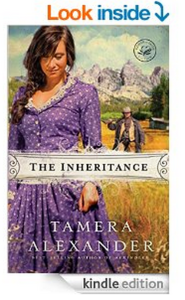 The Inheritance
Determined to tame her younger brother's rebellious streak, McKenna Ashford accepts her cousin's invitation to move west, and to begin again. But she quickly discovers that life in Copper Creek, Colorado, is far from what she expected. Shouldering burdens beyond her years, McKenna tries to be the parent Robert needs, instead of the older sister he resents. But an "untimely inheritance" challenges her resolve at every turn, while also offering a second chance to restore her sense of trust–and perhaps even her heart.
U.S. Marshal Wyatt Caradon is dedicated to bringing fugitives to justice, yet years of living on the trail have taken their toll. When his path intersects with that of McKenna, he comes face-to-face with a past he never wanted to relive–and the one woman who can help him find the future he's been longing for.
As McKenna struggles to let go of her independence and Wyatt considers opening his heart again, they discover an inheritance beyond imagination. But it will come at a price.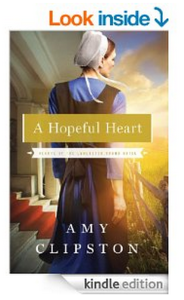 A Hopeful Heart
Hannah finds herself at a crossroads in her life. Her community offers her love and support after the untimely death of her husband, but an Englisher offers her the chance of a new life after her unexpected tragedy.
Wealthy businessman Trey Peterson is surprised by his attraction to the gentle Amish woman who works as a housekeeper in the Lancaster Grand Hotel. They share a common bond of loss and are able to offer each other comfort and support as they journey through their grief.
Joshua Glick wants nothing more than to offer his friendship and love to Hannah and her family. Not only is he her late husband's brother and business partner, he has always been in love with Hannah.
A Hopeful Heart is filled with surprising twists as Hannah tries to balance her life in the Amish community and her growing love for an outsider.
Remember, you don't have to have a Kindle to read these. You can read them on your computer, iPhone, BlackBerry, iPad, Droid, or Windows 7 phone. Amazon changes prices quickly, so if you want these free books, be sure to grab them now. I haven't read any of these, so I'm not personally recommending them. I just wanted to let you know that they were available for free. You can find more free eBooks here.