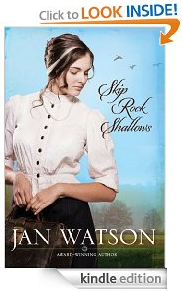 Skip Rock Shallows
Lilly Gray Corbett has just graduated from medical school and decided to accept an internship in the coal camp of Skip Rock, Kentucky. Her beau, Paul, is doing his residency in Boston and can't understand why Lilly would choose to work in a backwater town. But having grown up in the mountains, Lilly is drawn to the stubborn, superstitious people she encounters in Skip Rock—a town where people live hard and die harder and where women know their place. Lilly soon learns she has a lot to overcome, but after saving the life of a young miner, she begins to earn the residents' trust.
As Lilly becomes torn between joining Paul in Boston and her love for the people of Skip Rock, she crosses paths with a handsome miner—one who seems oddly familiar. Her attraction for him grows, even as she wrestles with her feelings and wonders what he's hiding.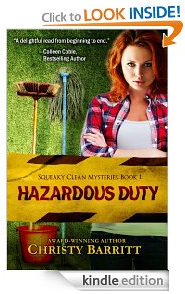 Hazardous Duty (Christian mystery) (Squeaky Clean Mysteries)
Buying a gun to kill your wife: $3,000
Hiring Trauma Care to clean afterward: $1,500
Having that same cleaner uncover evidence that frames you: Priceless
On her way to completing a degree in forensic science, Gabby St. Claire drops out of school and starts her own crime scene cleaning business. "Yeah, that's me," she says, "a crime scene cleaner. People waiting in line behind me who strike up conversations always regret it."
When a routine cleaning job uncovers a murder weapon the police overlooked, she realizes that the wrong person is in jail. But the owner of the weapon is a powerful foe . . . and willing to do anything to keep Gabby quiet.
With the help of her new neighbor, Riley Thomas, a man whose life and faith fascinate her, Gabby plays the detective to make sure the right person is put behind bars. Can Riley help her before another murder occurs?
Remember, you don't have to have a Kindle to read these. You can read them on your computer, iPhone, BlackBerry, iPad, Droid, or Windows 7 phone.
Amazon changes prices quickly, so if you want these free books, be sure to grab them now. I haven't read any of these, so I'm not personally recommending them. I just wanted to let you know that they were available for free.
You can find more free eBooks here.