We have a little Valentine's Day tradition at our house. Each year, Emma helps prepare dinner and dessert for our family and my parents. It's a fun way for her (and us!) to show love and appreciation for our family.
This year we're planning to serve all things HEART for both dinner and dessert.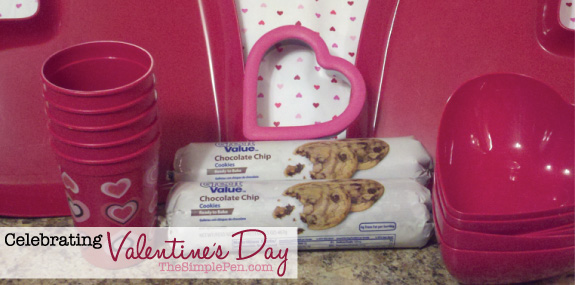 For dinner, we decided to bake two different kinds of homemade pizza, Taco Pizza and Chicken Bacon Ranch Pizza. Of course we'll be shaping both pizzas into hearts before we bake them. The hardest part will be choosing which kind to have. Maybe a slice of each?
For dessert, we wanted something easy to bake but unique. We came up with the idea of heart-shaped chocolate chip cookies. We thought our Homemade Vanilla Ice Cream might go nicely with our cookies. Then we got crazy and decided to put the two together and make Chocolate Chip Cookie Ice Cream Sandwiches.
We'll be baking the chocolate chip cookies using Great Value Chocolate Chip cookie dough from Walmart. This will be a huge time-saver (and sanity-saver!). We'll simply fill a cookie sheet with dough and bake. Once the cookies are cool, we'll use our heart-shaped cookie cutter to cut out our cookies. (Any volunteers for the scraps that will be left over?) We'll make our vanilla ice cream, place a scoop between two cookies, wrap, and freeze.
The Chocolate Chip Cookie Ice Cream Sandwiches are perfect for our dinner party project, because they can be made ahead of time. That way, we'll only have to worry about making the pizzas the night of our party.
We have recipes. We have ingredients. We have decorations, serving plates, and bowls. We'll be back with pictures of our yummy pizzas and ice cream sandwiches.
Do you have any special Valentine's Day food traditions?
Disclosure: This post is part of a campaign sponsored by Great Value and The Motherhood. You can find Great Value products at your local Walmart. All opinions are – as always – true and my own. #GreatValue