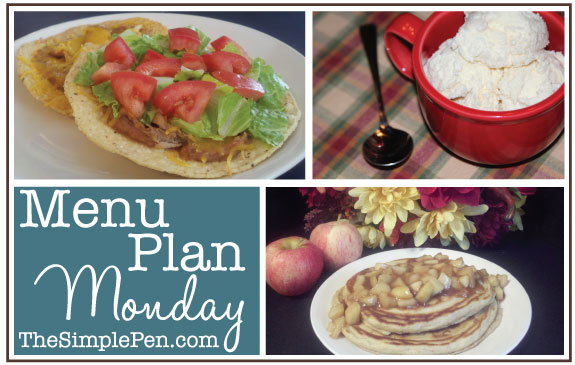 I got a little giggle out of the image that's always at the top of these Menu Plan Monday posts. While the food looks yummy, it's definitely not what we'll be eating this week. My husband and I have decided to tackle some inflammation/potential food allergy issues by doing a Whole30 challenge. So for the next 30 days we'll be eating whole foods. No processed foods. We're not including Emma (age 8) in the full-fledged challenge. She'll eat a lot of what we eat, but there will be times when she'll be eating something different.
Intimidating? Yep.
Extra work? You bet.
Worth it? I'm sure hoping so!
Fortunately I have several friends who are also taking up the challenge. It's nice to be able to swap ideas, recipes, and words of encouragement. Here's what's up for this week's menu:
:: Breakfasts ::
Scrambled omelette with peppers & mushrooms, strawberries & blackberries
Homemade turkey sausage, sweet potato hash browns, sauteed mushrooms, strawberries & bananas
Egg, sausage, sweet pepper, mushroom muffins (mixed and baked in muffin tins), orange & kiwi slices
Smoothies – coconut milk, frozen bananas, spinach, berries, splash of juice – and sausage
Breakfast 'pizza' with egg, sausage, and peppers
Breakfast Pumpkin Pudding, sausage
:: Lunches ::
Sauteed sweet potato, sausage, steamed broccoli
Spicy egg salad, veggie tray, oranges
Chicken salad with homemade mayo, shredded carrots, green onions, apples & almond slivers – all wrapped in large lettuce leaves
Taco salad with taco seasoned chicken, lettuce, tomato, guacamole, and this salad dressing
Sweet potatoes, apples, and hamburger skillet
Large salads with chicken, spinach, greens, avocado, tomatoes, carrots, cucumber, green onions
:: Dinners ::
Meatballs with Homemade Marinara Sauce (super easy!)
Pork Chops & Applesauce, oven-roasted veggies
Broiled Fish, sugar snap peas, dinner salads with greens, avocado, tomatoes, carrots, cucumber, green onions
Chicken & shrimp stir fry with broccoli, carrots, mushrooms
Chicken Fajitas with peppers, salsa & guacamole wrapped in lettuce leaves with sweet potato fries
Cauliflower rice & Mexican Chicken with side salads
I'm assuming we'll have leftovers on some of these days, so I'm not planning 7 meals for each day. We'll see how week 1 plays out. Now I just need to find some salad dressing recipes for all those greens!
If you're looking for some general menu planning inspiration, stop by Menu Plan Monday hosted by I'm an Organizing Junkie.