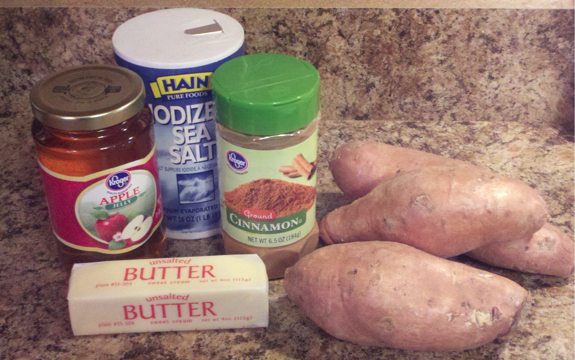 We love sweet potatoes. Well, yams actually. They're full of vitamin A, beta-caroltene, vitamin C, and lots of other good-for-you things! It helps that Emma has adored them since she started eating solid food. This recipe adds a delicious sweet glaze that also makes the house smell wonderful while they cook.
Apple Cinnamon Glazed Sweet Potatoes
Ingredients:
3 sweet potatoes*
3/4 c. apple jelly (or 1/4 c. per potato used)
3/8 tsp. salt (or 1/8 tsp. per potato used)
3/8 tsp. cinnamon (or 1/8 tsp. per potato used)
3 T. butter (or 1 T. per potato used)
* You can use as many or few potatoes as you want. Simply alter the amounts of other ingredients as noted.
Directions:
1. Preheat oven to 425 degrees.
2. Peel sweet potatoes (yams) and cut them into 1 inch cubes.
3. Arrange the cubes on a cookie sheet lined with parchment paper. (Trust me on the parchment!)
4. In a saucepan, combine the glaze ingredients.
5. Heat over low until smooth, stirring occasionally.
6. Brush the potato cubes with 1/2 of the glaze mixture.
7. Bake for 20 minutes.
8. Remove from oven. Stir potatoes to turn them over.
9. Brush potatoes with remaining glaze.
10. Bake for another 20 minutes or until tender.
I'm sharing this recipe at:
:: Mouthwatering Monday hosted by A Southern Fairytale
:: Tip Me Tuesday hosted by Tip Junkie
:: Tasty Tuesday hosted by Balancing Beauty & Bedlam
:: Tempt My Tummy Tuesday hosted by Blessed with Grace
:: Tuesdays at the Table hosted by All the Small Stuff
:: Look What I Made hosted by A Thrifty Mom
:: Works for Me Wednesday hosted by We Are THAT Family
:: Thrifty Thursday hosted by Coupon Teacher
:: Recipe Swap hosted by The Grocery Cart Challenge
:: I'm Lovin' It Fridays at Tidy Mom
:: Ultimate Recipe Swap hosted by Life as Mom