After hearing that there was going to be a pumpkin shortage again this year, I decided to figure out how to make my own from fresh pumpkin. I MUST have pumpkin if I'm going to bake my grandma's Pumpkin Bundt Cake…
And we can't let the Fall go by without at least one of those! My friend Mandi pointed me to a post over at Food for My Family, and I was off and running.
The best advice I can give you is to be sure to buy a pie pumpkin, not a big ole carving pumpkin. I found some pie pumpkins for $1.99 each at the grocery store this morning, and grabbed one just to give it a try.  It looked a little scrawny, but I was hoping to get at least two cans' worth of pumpkin puree from that. Then I would feel like I'd gotten my money's worth.
First I cut the pumpkin in half. This may sound easy, but it's not for the faint of heart (or arms). Be ready with a large knife and lots of muscle. It may have helped if this pumpkin hadn't had a HUGE stem on it, but I muscled my way through it by going to the side of the stem. (Note to self: Choose a pumpkin with a smaller stem next time.)
Next I scooped out all the middle membranes and seeds. It wasn't as icky as I thought it would be. 🙂  (I saved all the seeds and roasted them. I'll have to share that recipe with you later this week.) I was a little nervous at this point because that didn't look like a whole lot of pumpkin.
I totally forgot to take a picture of the next step, but I chopped the stem off and flipped both halves upside down (skin side up) in a 13×9 inch glass baking dish. I poured water over them until the bottom of the pan was covered, and the water came 1/4 to 1/2 inch up the sides of the pumpkins.
I popped them uncovered in a 350º oven for 1 hour 15 minutes. When I checked them, the skins were a little leathery, but the pumpkins were soft when I pressed on them.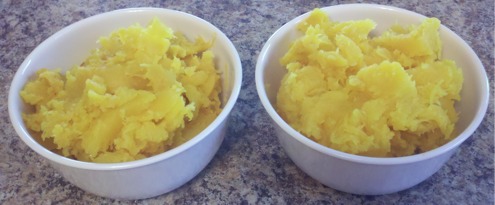 I let the baked pumpkins cool for about 30 minutes and then scooped out the insides. I literally got everything but the skins. I was quite impressed, and Emma thought the floppy pumpkin skins were pretty awesome! I ended up with the equivalent of three cans of pumpkin, so I was satisfied that I'd gotten my money's worth. Plus the house smelled heavenly while they were in the oven. You can't beat that!
I still need to run the pumpkin through the food processor before I bake with it. That should take care of any lumps that might be lurking in there.
I'm going to bake with some of the pumpkin and freeze part of it. I'll also be on the lookout for great pumpkin deals so that I can stash more away in the freezer for winter baking. In the future I'll probably try to do at least two pumpkins at a time to make the oven being on worthwhile.
So now that I have pumpkin, does anyone have pumpkin recipes to share? Feel free to leave them in the comments. If you have a blog and have posted your recipe, link it up below. I have pumpkin and I'm motivated to use it!
For some great recipes and tips, check out:
::Tasty Tuesday
::Tempt My Tummy Tuesday
::Mouthwatering Monday
::I'm Lovin' It Fridays at Tidy Mom
::Frugal Friday at Life as Mom