We always look forward to coloring Easter eggs at our house. This year we decided to make an evening of it and invite my parents for dinner and egg coloring. We wanted to share with them some of the healthy Whole30-type foods we've been eating. So a healthy dinner and dessert were definitely part of our plan. One of the things I was puzzled about was what to serve while we were coloring the Easter eggs.
After my trip to Walmart to pick up dinner supplies, I knew I had the answer…. Bigelow tea! We aren't using sweeteners of any kind right now, so I chose flavors that we could enjoy as-is.

I found Jason's favorite (Bigelow's Vanilla Chai) and Cinnamon Stick for a spicier twist. I prefer fruit-flavored teas, but I also prefer black tea to herbal. I was thrilled to find the new Bigelow Pomegranate tea. I knew it would be nice to have something other than water, water, or water while we were enjoying our company.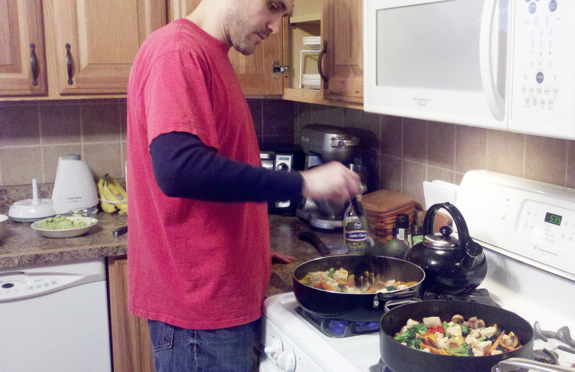 My sweet husband jumped right in and helped cook the Mexican skillet meal that we were serving. This is super-easy and tastes great. We cooked chicken, shrimp, broccoli, sweet peppers, mushrooms, and carrots in olive oil. We added some homemade taco seasoning and served it with salsa and homemade guacamole. This was the first time my parents had tried our homemade guacamole, but they both liked it. (They actually liked the whole meal.)

I think Emma was most excited about sharing our new favorite (but healthy!) dessert with them. We made blueberry banana parfaits and had them waiting in the freezer for after dinner. Oh my yum.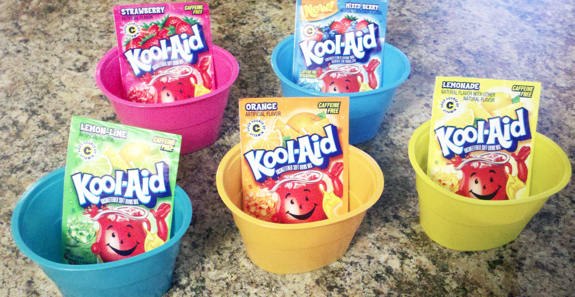 Once dinner and dessert were over, we were ready to color some Easter eggs. This year we tried coloring them with Kool-Aid. I figured it had to smell better than using vinegar, right? 😉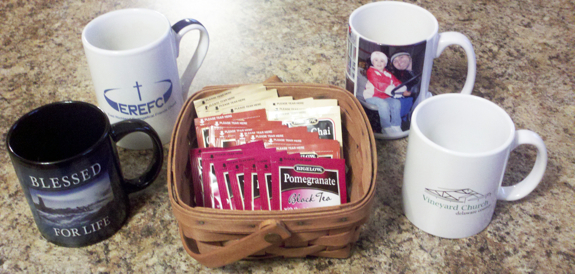 That also meant that it was time to brew tea for the grown-ups.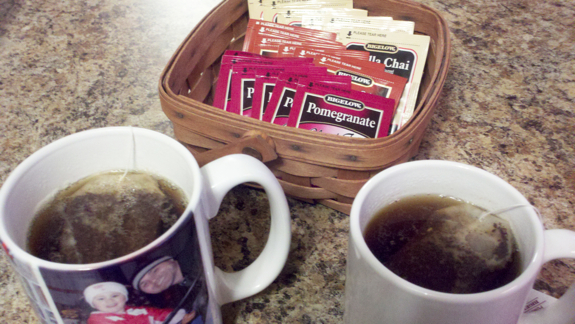 We've always been fans of Bigelow tea, mostly because of their flavors. (My husband makes a mean iced Vanilla Chai in the summer.) But did you know that Bigelow is also deeply involved in the community? They've raised over $800,000 over the past 25 years and supported organizations like a rescue mission, homes for women and children, food banks, senior centers, and more. The Bigelow employees are also committed to helping wherever they can in the community. I love supporting a company when they're supporting their community.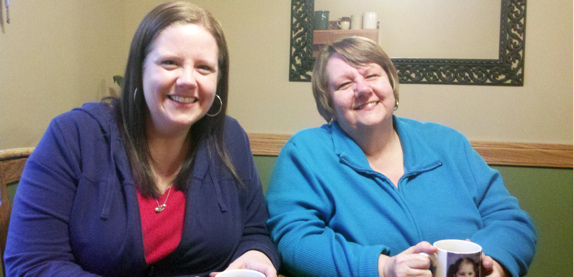 We opted to try the pomegranate and cinnamon stick flavors while we colored eggs. I was pleasantly surprised at the flavors. The cinnamon stick was my favorite, as it truly didn't need sweetener to taste great. I drank most of my pomegranate without sweetener too. I think a couple of drops of stevia will do the trick later in that one. I would LOVE to brew a huge batch of the pomegranate just for the smell. It was amazing. Plus I was thrilled to be able to drink something besides water… and still be making a healthy choice.

It was truly a relaxing evening, a rare chance to just kick back and relax with my parents. I can't remember the last time my mom and I got to hang out and sip tea together. Emma had a ball coloring her Easter eggs. We were amazed at the vibrant colors we got from the Kool-Aid.
If you'd like to learn more about what Bigelow tea is doing in their community and with their SustainabiliTea programs, be sure to stop by the Bigelow website or like Bigelow on Facebook. Or stop by the Bigelow Tea blog and talk tea.
I am a member of the Collective Bias® Social Fabric® Community.  This shop has been compensated as part of a social shopper insights study for Collective Bias® and Bigelow Tea #CBias #SocialFabric #AmericasTea