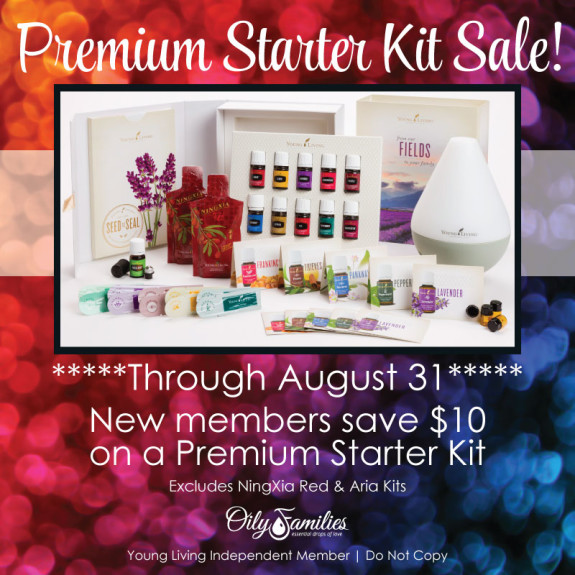 If you've been considering trying essential oils, this is the PERFECT time to start! Now through the end of August, new members get $10 off the regular price of the Premium Starter Kit. That's my all-time favorite kit to start with. The oils and diffuser are worth over $300. Now through the end of August you get it all for only $150. Hello, big savings!
Here's what you get with your Premium Starter Kit:
11 essential oils (5ml each) :: Frankincense, Copaiba, Lemon, Purification, RC, PanAway, DiGize, Lavender, Peppermint, Thieves, and Stress Away
Essential oil diffuser
A roller fitment that will turn any oil bottle into a roller bottle
10 essential oil sample sachets
10 sample bottles you can use to share oils with your friends
10 informational sharing cards
2 NingXia Red samples
Informational literature
Plus access to two private Facebook groups where you'll find support as you start using your oils
This is by far the best investment in our health and wellness that our family has ever made. If you'd like to join us on our wellness journey, now's the time! If you join the Young Living family with a Premium Starter Kit and use my member number, I'll also send you some of my favorite reference material.
So how do you join?
It's super easy. Here's how:
Click here to start the sign-up process.
Choose the 'Member' option so you can get the 24% discount.
You should see my member number (1531545) in the Enroller and Sponsor boxes. This ensures that we're connected so I can support you as you learn about oils and how to use them. Young Living also sends me a small bonus when you enroll through me.
Fill in all of your information.
Keep your username, password, and PIN so you can use them for future orders.
Choose your starter kit. I HIGHLY recommend the $160 Premium Starter Kit (on sale for $150), as you'll get the most bang for your buck that way.
Choose your diffuser. I have both the Home Diffuser and the Dew Drop and love them both. The Home Diffuser would be my first choice for someone new to essential oils.
Skip the Essential Rewards Kits, and we'll chat more about that later. Then you can decide if it will work for you or not. You can order without enrolling.
Add anything else that you might need (supplements, Thieves hand soap, etc.) or leave the order as-is.
Check out and wait for your box. The waiting is the hardest part!!
If you do sign up using my number, drop me a message and let me know. I'll send you some information that will help you learn to use your new oils when they arrive. I'll also add you to our private Facebook groups if you'd like. Your reference materials will ship within 30 days of you signing up.
I'm excited to have you join our family on this oily adventure!
You can read more about why we chose Young Living for our essential oils, how we use essential oils to relax naturally, and how we're boosting our immune systems.