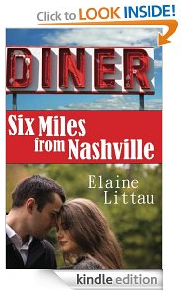 Six Miles From Nashville
Betty Barnes finds herself hundreds of miles away from her Guymon, Oklahoma home. Since leaving for a large Bible College in Missouri, her life has been twisted around. Not that things weren't already a challenge for her with her brother in Vietnam and her heart bleeding from a recent break up.
Faced with unbearable loneliness and loss, she arrives at a diner six miles from Nashville. There, she has a chance to pick up the pieces and build a new life for herself as an independant young woman with a great future ahead of her.
A Faith Full Marriage: Building a Lifetime Love on Biblical Principles
This book uncovers a vital missing element in most marriages—faith! Discover how faith should be the foundation and the source of joy and happiness in your marriage relationship. Faith is where God's touch enters the picture—and more than anything, your marriage needs His touch!
Remember, you don't have to have a Kindle to read these. You can read them on your computer, iPhone, BlackBerry, iPad, Droid, or Windows 7 phone.
Amazon changes prices quickly, so if you want these free books, be sure to grab them now. I haven't read any of these, so I'm not personally recommending them. I just wanted to let you know that they were available for free.
You can find more free eBooks here.