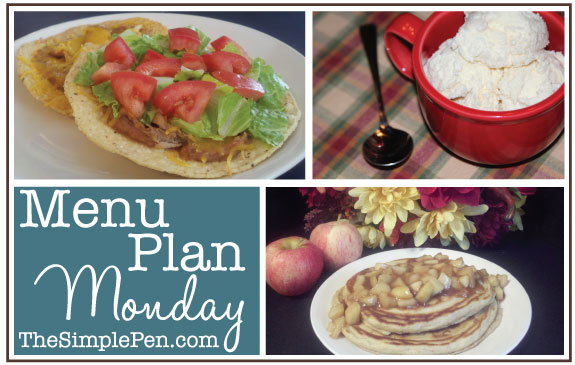 Lately I've been in a mode where I menu plan then grocery shop. Makes sense, right? Make a plan, make a list, buy the stuff on the list. This week I had almost enough to pull off a full week's menu plan. We still needed a few things from the grocery store, so I went yesterday.
Because I wasn't spending all of our grocery money on the coming week's menu plan, I was able to buy ahead. I picked up several packages of meat that I may have bypassed if I was shopping for a plan. But these were marked WAYYY down. I brought them home and popped them in the freezer.
Now that I have a variety of meats (at a huge discount!), I'll be able to incorporate them into next week's menu plan. I'm hoping that starts a cycle where I'm buying meat at a really low price and planning menus around what I bought the previous week.
Here's the plan for this week's menu.
:: Breakfasts ::
Eggs, Toast & Fruit
Oatmeal & Fruit
Cereal & Fruit
Homemade Granola over Yogurt
:: Lunches ::
Leftovers
Homemade Pizza
Muchy Lunch (popcorn, cheese, fruit, veggies)
Sandwiches & Veggie Tray
:: Dinners ::
Chicken Fettuccine Alfredo based on this Shrimp Fettuccine Alfredo recipe
Sticky Chicken with Green Beans & Baked Potatoes
Chili over Baked Potatoes (Chili left from last week's batch)
Broiled Tilapia Parmesan with Oven Fries & Corn
Breakfast for Dinner: Eggs with Sausage & Peppers, Homemade Bread
Chicken Tostadas (Didn't get to these lat week)
If you're looking for some general menu planning inspiration, stop by Menu Plan Monday hosted by I'm an Organizing Junkie.