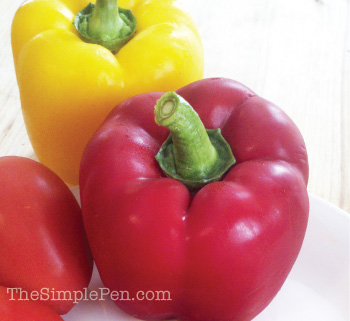 Whole foods are more expensive.
There. I said it.
Everyone seems to be talking about how it's not that much more expensive to eat good, wholesome food at home. Throw in the idea of eating whole foods (versus processed foods), and the grocery bill starts creeping up. Okay, maybe it does more than creep.
While we've been striving to eat whole foods (and enjoying the health benefits of that decision), we would prefer to not break the bank buying groceries. So how do you eat whole foods and keep the grocery bill manageable?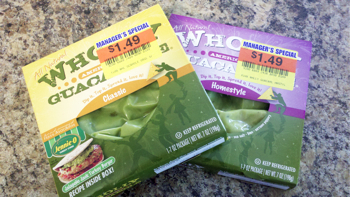 Watch for Manager's Specials
Oh how I adore these little yellow & orange stickers!  This guacamole is the perfect example of saving money on whole foods. I had popped an avocado in my grocery cart this weekend. My plan was to make homemade guacamole. Unfortunately, avocados weren't on sale. Those little buggers are expensive! So I just bought one. Then I noticed two packs of Wholly Guacamole marked down to $1.49 each. I happened to have two $1 off coupons with me, making the guacamole less expensive than the avocado. Plus I ended up with two meals' worth of guacamole instead of just one. Win!
Use What You Have
I love hunting around in the fridge, freezer, and pantry to see what I've forgotten about. Of course the science experiments in the fridge get tossed. But more than once I've found something stashed away in the freezer or pantry and found a creative way to use it. Last week it was cooked turkey that I chopped up and used to top some big salads for lunch. It makes more sense to use what you have than it does to go buy more.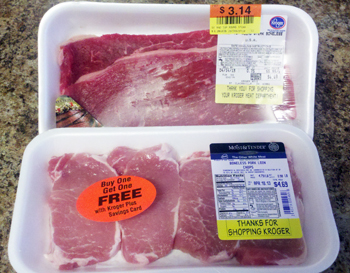 Menu Plan Around Meat Sales
My normal plan of attack is to create a menu plan, see what I already have on hand, and then shop for the things that we need to carry out the plan. That's changed in recent weeks. Instead, I shop the discounts and then plan the menu using those bargains.  Buy one get one free pork chops? Sign us up for two nights of pork chops this week. (Or toss one pack in the freezer for next week.) Manager's special on steaks? Guess who's having broiled steak this week.
If I know we won't use the reduced-priced meats right away, I throw them in the freezer. I learned the hard way that they don't keep very long in the fridge.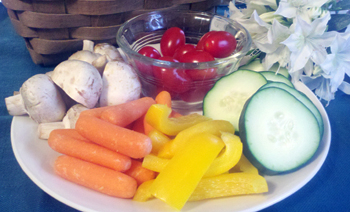 Keep It Simple
I love to try new recipes. When we started the Whole30 challenge, I wanted to bake and cook up a storm using newly-discovered ingredients. I found myself spending a TON of time in the kitchen. That didn't help business productivity much though. So I scaled it back and simplified what we were making for each meal. We don't need oven-roasted or sauteed veggies with each meal. It's perfectly fine to opt for a raw veggie plate that we can all share with lunch. (In fact, I think they ate MORE veggies from the veggie plate than when I cooked them!)
Keeping those tips in mind, here's what's on the menu for this week.
:: Breakfasts ::
Eggs, sausage, oranges
Green smoothies, sausage
Eggs, sweet potato hash browns, blackberries
Eggs, bacon, warm cinnamon apples
Breakfast pumpkin pudding (adding 2 eggs to this recipe), sausage
Banana muffins, sausage, kiwi
:: Lunches ::
Cauliflower pizza (Didn't get to this one last week.)
Hot dogs with chili sauce, veggie tray
Leftovers
Taco salads
Baked pork chops, sweet potatoes, raw veggie tray
:: Dinners ::
Crock Pot Stuffed Peppers (Haven't gotten to this one yet either.)
Italian Meatloaf, steamed broccoli
Mexican Skillet (Recipe this week! I finally got some pictures.)
Chicken with homemade marinara sauce, side salads
Broiled steaks, sweet potatoes
Baked fish, oven-roasted veggies, sweet potatoes
If you're looking for some general menu planning inspiration, stop by Menu Plan Monday hosted by I'm an Organizing Junkie.