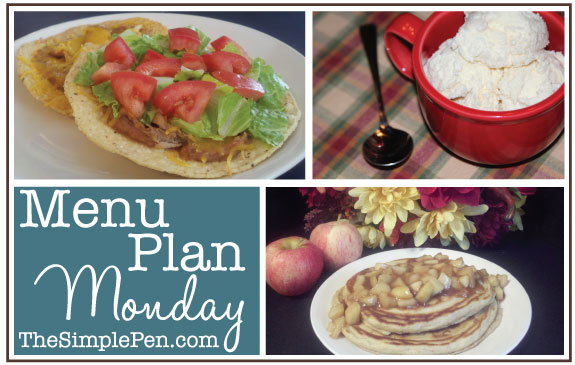 Last week was our first week to tackle our regular school year routine. Homeschooling is in full-swing. Emma's dance classes have started. Plus our homeschool co-op kicked off last week. Let me tell you…. That all makes for a really full week.
Having a menu plan in place always makes things run smoother. But finding time to carry out that plan can be challenging, especially on those days when the schedule can get the best of us.
I thought about doing a full-blown freezer cooking session where I stock two weeks' worth of meals in the freezer. But honestly… I just wasn't up for the recipe-hunting, list-making, and grocery shopping for that.
Instead, we're doing a work-ahead weekend. I sat down on yesterday and wrote out the menu plan (below) and will hit the grocery store after church today. We'll spend some time this afternoon putting together as much as we can to make the week run smoothly.
Here's the menu plan along with what we're doing to pre-prep each item. Some of the pre-prepped foods will go into the freezer to keep them fresh. We'll stash others in sealed containers in the fridge.
:: Breakfasts ::
Peanut butter and banana waffle sandwiches :: We're using pre-made organic waffles for this, so no pre-prep is needed.
Homemade granola :: We'll make this tonight before going to bed.
Cinnamon pancakes with fresh fruit :: We'll mix the dry ingredients for the pancakes so that we just need to add the liquids the morning we're making them.
Eggs, sausage, oranges :: We'll cut up the sausage and put it in a sealed container in the fridge.
We'll be repeating a couple of these breakfasts through the week.
:: Lunches ::
Homemade pizza :: We'll mix the dry ingredients and will add the liquids and yeast the day of baking. We'll also chop green peppers and put them in a sealed container.
Cottage cheese, veggie tray, fresh fruit :: We'll cut up some fresh veggies and store them in sealed containers.
Hamburgers, chips, veggie tray :: We'll use the pre-cut veggies for this meal too.
Hot dogs with chili sauce, carrot sticks :: We'll make the chili sauce. We're keeping half out and freezing half.
Crock Pot chili :: This is actually coming out of the freezer. We made this last week and froze half to use this week.
Leftovers :: Those kind of prep themselves, eh? 😉
:: Dinners ::
Roast with potatoes and carrots :: We'll peel and cut carrots and put them in a sealed container.
Grilled pork chops, Parmesan zucchini wedges, Crock Pot baked potatoes :: We'll mix up the spice rub for the pork chops and the spice mix for the zucchini.
Chicken fried rice :: We'll make the rice, brown the chicken, and chop the carrots.
Sausage, potatoes & peppers in the skillet :: We'll cut up the sausage and put it in a sealed container.
Italian grilled chicken, baked sweet potatoes, steamed broccoli :: We'll mix the spice rub for the chicken and cut up the broccoli.
Chicken wraps (chicken, peppers, cheese) :: This chicken will be grilled plain with the Italian chicken, so there's no prep with this.
If you're looking for some general menu planning inspiration, stop by Menu Plan Monday hosted by I'm an Organizing Junkie.