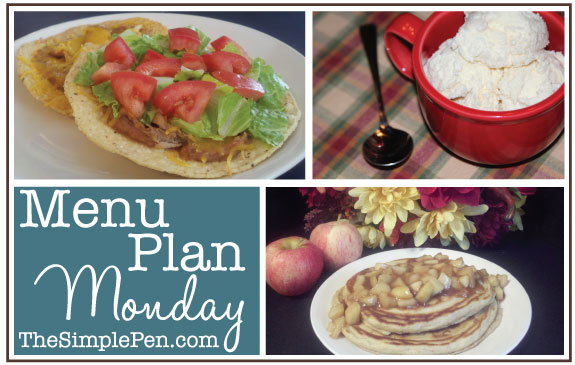 Last week I jumped back into menu planning after taking a brief summer vacation from it. Unlike most vacations, saying good-bye to menu planning for a few weeks caused nothing but stress.
While having a menu plan helps curb the mealtime chaos, it doesn't have to take forever to create. Here are a few tricks I use to cut down my planning time.
Use Pinterest as a Tool
No, I don't mean that you should spend time searching Pinterest for menu-worthy recipes. That really WOULD take forever! Instead, as you check your favorite websites throughout the week, pin recipe ideas you want to try.
I recommend keeping them all on one Pinterest board. I call mine "Must Cook" and it's a landing place for recipes I want to try. I also have a board called "Breakfast Out of the Box" that's just for homemade breakfast ideas. Once you create your board and add pins to it, you can use that for planning inspiration.
Limit the New
I get really ambitious when I'm menu planning, especially when I haven't planned for a while. I have all these great recipes just crying out for me to try them. So I add them to the menu plan. The problem is that I get easily overwhelmed. Those new recipes take a lot longer to figure out than my go-to recipes do. Plus, if the new recipes are flops, I'm stuck scrambling for something else or eating a blah meal. I'm making it my goal to try no more than 2 new recipes each week.
Check the Fridge & Pantry First
This is a huge grocery budget-saver. Instead of just making a list of what I'd like to make this week and then heading to the store to buy it, I shop my fridge and pantry first. I'm always surprised at what I can put together with what I have on hand. Once I plan with what I have, I can pick up a few things to go with those meals. I can also focus on buying what's on sale that week, saving my family even more.
Plan for Snacks
This has been the biggest issue at our house lately. I've stocked us up on meat, fruit, and veggies, but I've not paid much attention to the snacks. That sends us scrambling at 3:00 when everyone's hungry. We do snack on fresh fruit, but I also like to plan for other grab-and-go healthy snacks. This week I'll be adding snacks to my menu plan.
This Week's Plan
I'm taking my own advice this week. I found a bunch of meat deals at Kroger over the weekend, and I'm building my plan around those. Then I'll head out to the store to pick up what I need to go with those meals and what's on sale. And I won't forget the snacks. 🙂
Another goal of mine is to use the Crock Pot more. I don't usually think about it in the summer, but it's a great way to not heat up the house to cook dinner. Plus, we can throw dinner in when it's convenient and eat when it's ready. Perfect for summertime!
:: Breakfasts ::
Paleo banana bread, sauteed sausage, mushrooms, and zucchini
Green smoothies, sausage
Breakfast egg muffins (adding broccoli, peppers, sausage)
Baked oatmeal, strawberries
Easy bananas & cream oatmeal, oranges
:: Lunches ::
Taco salad topped with salsa and homemade guacamole
Hot dogs with chili topping, veggie tray, fruit
Munchy lunch – popcorn, carrot sticks, apples with peanut butter
Leftovers
:: Dinners ::
Sticky Chicken, steamed broccoli
Grilled pork chops, cinnamon-honey sweet potatoes, green beans
Grilled Italian spice rub chicken, marinara sauce, side salads
Crock Pot roast, potatoes, carrots, celery, green beans
Broiled salmon, oven fries, steamed carrots
:: Snacks ::
Healthy blueberry banana parfaits
Homemade granola
Homemade chewy granola bars
For more menu planning ideas, stop by Menu Plan Monday.