We're into our third week of the Whole30 challenge. In addition to learning some important lessons, I've also found some things I just can't do without. If we're going to eat healthier, these are my must-haves:
Bananas: These absolutely make our smoothies. They're sweet and packed with nutrients. We also like them sliced in a bowl with almond butter drizzled over the top. 
Avocados: Now that I've learned to make homemade guacamole, these little good-fat beauties are must-haves. Homemade guacamole is perfect on top of a salad in place of dressing. We even mixed them into a smoothie and were surprised at how creamy it was.
Food Processor: I have this food processor, and it's been perfect for making homemade Laraballs. We also made banana ice cream by pureeing frozen bananas and adding coconut milk. I also used it to shred sweet potatoes in a heartbeat.
Blender: Smoothies. 'Nuf said? 😉 Unfortunately we blew ours up this week. I guess we're on the hunt for a new one.
Aidells Sausage: I'm so fortunate that my Kroger carries these. They're a breakfast life-saver!
Natural Almonds: These are a good fat, and we can grab a small handful when we're feeling a little hungry between meals.
Steamer Basket: We like to steam broccoli and cauliflower as a quick side for lunch or dinner.
Good Friends: It's awesome to have the support of good friends when you're making a big change like this. I started this challenge with Elizabeth, Myra, and Amy, and Shannon was crazy enough to jump in with us too. If you decide to do something like this, I highly recommend gathering your own little support group for swapping recipes and encouragement.
Now that we have the hang of this new way of eating, it's time to mix things up a little bit.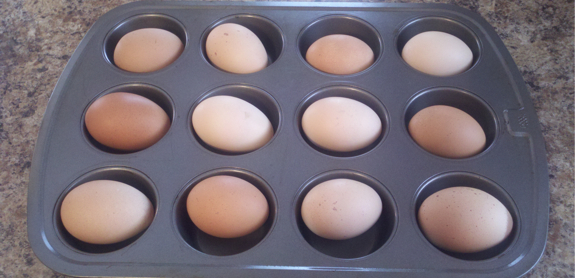 Baked Hard Boiled Eggs (using this easy recipe)
:: Breakfasts ::
Warning: We're doing a few Whole30 semi-cheats for breakfast, but we're keeping it Paleo-style and using ingredients from the Whole30 list.
Paleo banana bread, sauteed sausage & mushrooms
Breakfast sandwiches – Paleo biscuits, eggs, veggies, sausage – berries
Scrambled eggs, sausage, sweet potato hashbrowns
Green smoothies, sausage
Protein pumpkin pancakes, sliced oranges – Jason & I will probably top ours with cinnamon apples.
Breakfast pumpkin pudding (adding 2 eggs to this recipe), sausage
Beef sausage-broccoli-egg muffins, fruit cups
:: Lunches ::
Roasted shrimp & veggies
Spicy egg salad, veggie tray, oranges
Taco salad – with taco seasoned chicken, lettuce, tomato, guacamole, and this salad dressing
Large salads with chicken, spinach, greens, avocado, tomatoes, carrots, cucumber, green onions
Applegate Farms hot dogs with chili topping, side salad, fruit
Skillet steak salads, oven-roasted veggies
:: Dinners ::
Meatballs with homemade marinara sauce
Taco chicken skillet (Recipe coming soon)
Grilled pork chops, veggie kabobs, steamed broccoli
Paelo salmon patties, oven-roasted veggies, side salads
Sticky chicken, baked sweet potatoes, sugar snap peas
Broiled fish, steamed broccoli, sweet potato hash browns
Crock Pot Stuffed Peppers, fruit bowl
If you're looking for some general menu planning inspiration, stop by Menu Plan Monday hosted by I'm an Organizing Junkie.