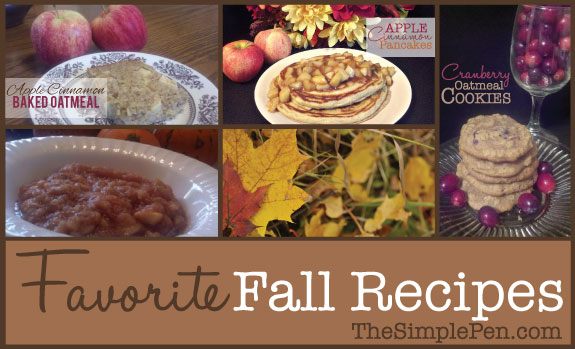 Anyone else ready for fall? You start talking sweaters, hot chocolate, and crunchy leaves, and I'm SO THERE. Fall is by far my favorite season of the year. I love the colors. I love the cooler weather. I love the warm, delicious smells coming from the kitchen. Bring it on!
In honor of Fall being on its way, I thought I'd share a few of my favorite Fall recipes with you. Hopefully they'll inspire you to break out the cinnamon or the slow cooker and whip up something Fall-ish too.
Breakfast
Apple Cinnamon Baked Oatmeal
Apple Cinnamon Pancakes
Dessert
Grandma's Pumpkin Bundt Cake
Cranberry Oatmeal Cookies
Side Dish
Slow Cooker Vanilla Applesauce
Soups
Crock Pot Chili
Country Bean Soup
Crock Pot Beef Vegetable Barley Soup
I have a feeling I'll be ready to share some more apple and pumpkin recipes with you before too long. Stay tuned!