I love to bake, but I don't always love to drag out all of the ingredients needed to bake. This is especially true now that I'm baking everything from scratch rather than from boxed mixes. To solve this problem, I started making my own ready-made baking mixes.
As I was making cornbread last week, I realized how many different ingredients I had out to make a little 8×8 pan of cornbread for one meal. To maximize my efforts, I decided to mix up the dry ingredients for five batches of cornbread while everything was out. I mixed one batch in a bowl and the other four in Ziploc freezer bags.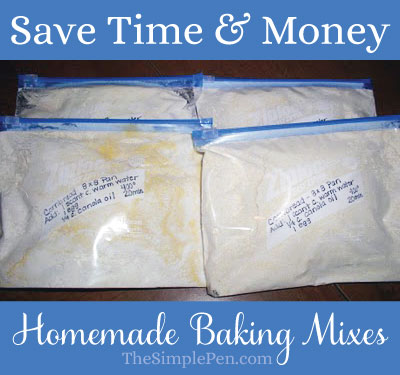 I then labeled the outside of the bag to show what the mix was, what needed to be added, and the baking temperature and time. (Take a lesson from my mistake, and label them BEFORE you put the ingredients in. Oops!)
Cornbread Mix
Here's what went into the bags:
3/4 c. corn meal
1 1/4 c. all-purpose flour
1/2 c. sugar
2 tsp. baking powder
1/2 tsp. salt
1/3 c. powdered milk*
Here's what I need to add before baking:
1 scant c. warm water
1 egg
1/4 c. light olive oil
*If you prefer, you can skip the powdered milk and warm water and use 1 c. of milk before baking instead.

Bake at 400 degrees for 20 minutes. I make this in my toaster oven (which is also a convection oven), and it's delicious!
The last time we had Crock Pot Black Bean Soup, it just cried out for cornbread to go with it. I was able to grab a bag of mix, add three ingredients, and have cornbread ready in no time. I'm thinking about doing this each time I make a batch of any baked goods. Then I'll have mixes on-hand the next few times I want to bake each item.
If you want to try making your own baking mixes, it would work well with these recipes too:
Cinnamon Pancakes
Chocolate Zucchini Bread
Applesauce Cake
Deep Dark Chocolate Cake
Cranberry Oatmeal Cookies
Grandma's Pumpkin Bundt Cake